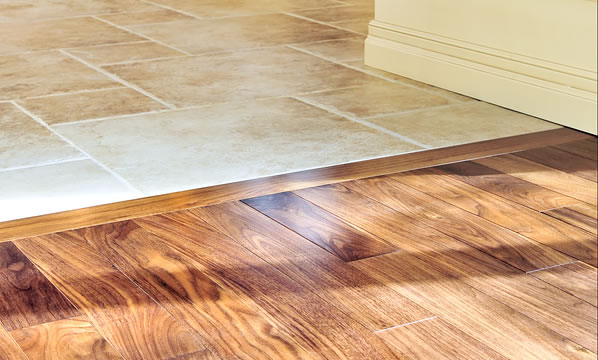 A new Floor Covering is a great way to finish off your Kitchen, Bathroom or Basement remodeling project.  For that matter, we can install new flooring in any room of your home for you.  With plenty of options to choose from, depending on the project at hand, Alone Eagle Remodeling can bring flooring samples for you to look at or your can look around at some flooring distributors in the area.
We provide flooring installations hand in hand with our remodeling projects so that you don't have the stress of searching around to hire additional contractors.
During a Basement Remodeling project, we can install new carpeting and even porcelain tile in the bathrooms and exterior doorways.  You may even decide on a Carpet Tile installation for a basement – that way, if something gets spilled you can remove a section of carpet and place a new piece down.
If we're remodeling your Kitchen, we can tie in different types of flooring to your hallway, mudroom, living room, dining room or any other available connection from the kitchen.  We can also arrange to replace the whole first floor during a renovation as well.
We've got your Bathroom covered!  Pun intended.  Feel free to search our bathroom pages and you'll find a wide variety of ceramic tile installations.
Hardwood Flooring
Natural Hardwood Flooring will bring a new warmth and elegance to your home.  There's plenty of options available to suite your taste and color pallet.  We can install Oak, Cherry, Walnut, Tiger wood, Ash and plenty of other species whether you'd like one cohesive look throughout or mixed and matched with boarders and inlays.  Hardwood is a very durable solution for high traffic areas especially in the entry way or continuing it though to your kitchen.
Laminate Flooring
Laminate Flooring will offer the look of Hardwood flooring but at a lower cost.  There are two types of laminate flooring that can either be glued together or attached with a tongue and groove locking system.  Laminate flooring comes in multiple choices of thicknesses as well, so you can decide which type will meet either your durability standards and/or budget.
Here are some other types of flooring that you may interest you for a remodeling project:
Carpet
Carpet Tile
Tile Flooring
Bamboo
Cork Flooring
Vinyl Flooring
The options for your new project are endless and just know that Alone Eagle Remodeling can bring you a successful installation during one of our Home Improvement projects.  Are you considering a new Kitchen, Bathroom or Finished Basement?  We can plan out any type of remodeling project with so if it's that time to finally get started, fill out one of our contact forms and we'll set up a time to discuss your ideas and goals.  We look forward to hearing from you!