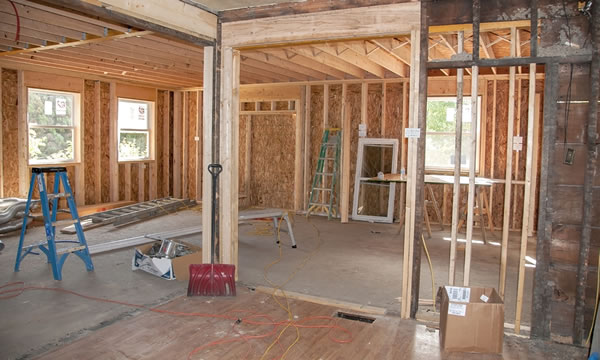 Framing is probably one of the most critical aspects of any home remodeling or construction project.  The "Bones" of the home need to be sound or you'll hear it from every tradesman on the job because a poorly framed construction or remodeling project isn't fun for anyone to work on.  It makes everyone's job more difficult and really affects the final look of your finished project.
Alone Eagle Remodeling LLC has experienced working behind poorly skilled framing crews and that was enough to know we'd never make that mistake again.  If your home remodeling project requires framing to be done we'll do it for you.  We have our own framing specialists that we've formed a working relationship with over the years and we know their work is reliable and top notch.
It doesn't matter if you want to remove walls to open up your space, or add walls in for more privacy or to enclose an area for a bathroom with a new door or whatever it is you'd like to do with your home.  We can frame it for you in such a way that it won't negatively affect any of the additional work being done to complete your project.  In fact, Alone Eagle Remodeling LLC can take care of your home remodeling project from start to finish, from framing to completion and that includes drywall and paint too.  Do you need a finished basement?  A quality framing job is a major factor in those projects.
When your home or the specific area you are remodeling has been framed properly your entire project will look better.  You'll have nice square walls, your cabinets will fit correctly, your flooring will fit better and not buckle. The entire remodeling project will be of a higher quality.  Nowadays with home building contractors pushing their sub-contractors to complete projects faster, for cheaper the quality of framing is going down.
When you choose to hire Alone Eagle Remodeling LLC for your home remodeling project you'll have the peace of mind knowing that much thought and skill has gone into the framing of your project.