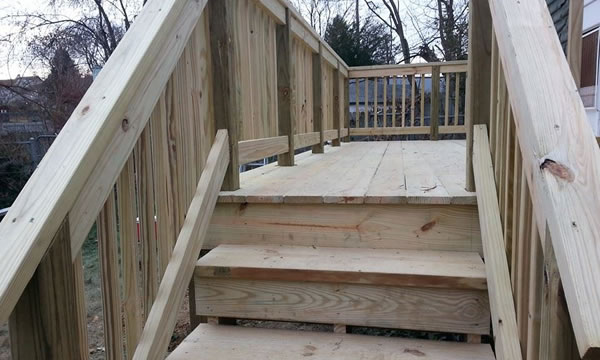 Pressure Treated Deck and Ramp Construction
Pressure Treated Decks and Ramps are a great way to enhance your home or make it more accessible for elderly or physically disabled persons.  Pressure treated wood offers a very durable and affordable choice for homeowners looking to make one of these additions to their home.
In the case of a pressure treated deck, it will give you and your family somewhere to enjoy the beautiful PA summers, if it's a ramp you need then it's likely going to improve the lifestyle of yourself or a loved one and give them more accessibility to your home or theirs.
Alone Eagle Remodeling LLC has experience working with pressure treated lumber to build decks and wheelchair ramps throughout the Harrisburg, PA area.  We don't specialize in building elaborate multi-level custom decks, or anything like that.  We focus on building simple, single level deck designs and accessibility ramps on residential properties.
Fact:  According to some national surveys more than 80% of all the decks built in the USA are made entirely or at least partially out of Pressure Treated Lumber.
As a decking and ramp material pressure treated lumber carries many benefits for a homeowner besides it's affordable cost.  Pressure treated wood decks look great and the material is relatively easy for a builder to work with.  Pressure treated lumber can also be available in different grades and is always in stock at your local lumber yards.  If you'd like we can even seal the new deck for you.  Typically a new deck can be sealed right away, however, even waiting a few months is fine too and we can always come back to treat the wood.  Sometimes it is better to wait so that the chemicals in the wood will release allowing the sealer to soak in better.
Even very high end deck building projects will often utilize pressure treated lumber for the foundation and structure of the deck and then finish the deck off with more expensive wood product such as Cedar or even a composite material.  Because of it's rot resistance properties and it's ability to maintain contact with the ground pressure treated lumber is almost always used as the deck framing or structure.
Pressure Treated Deck Building Services:
Treated Lumber Deck Construction
Treated Lumber Deck Framing
Building a new pressure treated deck or wheelchair ramp onto your home is an exciting project that doesn't take us an incredibly long time to build.  We can actually complete most treated lumber decking projects in just a couple of days once we've started the project.   Once it's complete you'll have a beautiful looking deck for you to relax, cook, entertain or enjoy however you see fit.