Bringing new life to your Harrisburg Pennsylvania bathroom with a Custom Tile and Stone Shower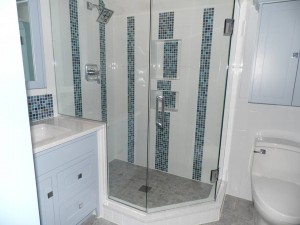 Are you thinking of a new tile shower?  Why do you want it?  How do you want to design it?  Just a few questions that may be going through your mind if you're thinking about remodeling your bathroom in Harrisburg PA.  Now you can feel a little more comfortable because Alone Eagle Remodeling has all of the answers from the design down to cleaning the last grout joint.
A Tile Shower is the most intricate part of a bathroom remodel and we understand how well you want it look.  Aside from that, it must function properly too and that is why we take the extra time to build and waterproof the unit for maximum performance.  Shower drains and mud floors have to be precise and sloped to industry standards for proper drainage.  We use premium waterproofing materials to treat the unit before a single tile goes up.  Waterproofing is an important step that inexperienced contractors know nothing about.  We tie in waterproofing to protect the subfloor, wall board and framing from being attacked by water and moisture –a mess that you don't want.
Here are some things we can do with your shower:
Install any type of plumbing fixtures that you'd like (standard and custom applications including digital systems).
Build in recessed niches for shampoo bottles and any other personal items.
Place a shaving niche down low so you can rest your foot in there and store razors etc…
Build a bulletproof bench to your exact specifications.
Install your choice of shower drain (standard grates with various finishes, tile top, linear drains and more).
 Placement of desired grab bars and other accessories.
Arrange Heavy Glass installation.
Did you take notice to the part above where we install plumbing fixtures?  You'll find that sole "Tile Contractors" do not install plumbing so why bother?  We're not discounting the trade by any means, however, our services will allow you to have a full service installation from start to finish.  Our seamless installation will keep the job flowing without scheduling delays and aggravation.  Years of experience on our end will quickly bring your decisions to the forefront.
Tile selections will set the tone.  There's various types of tile to choose from.  You may want an upbeat look with a glossy subway tile and glass mosaic or a warm and inviting spa type feel with natural stone and pebble floor.  We can bring along tile sample boards for you to get ideas or you can visit plenty of showrooms in the area to select your tile.  We can install tile walls and floors in any pattern that you'd like so don't be afraid to get creative with banners, mosaics and overall layout.
Top off the installation with high performance grout!  We prefer to use high grade epoxy and urethane grouts to prevent mold and mildew growth on our installation.  These types of grouts have a very low absorption rate and obtain chemicals like Microban to stop mold before it starts.  That doesn't mean you don't have to clean the shower… proper maintenance on a strict schedule will ensure that your shower will stay clean and fresh for years to come.
Now it is your turn.  Since we've spent a little time to provide our operations and procedures with a tile shower, we'd love to hear from you!  Feel free to fill out one of our contact forms and tell us about yourself and what you'd like to accomplish with your Harrisburg tile shower project.  We can set up a meeting and get the ball rolling.