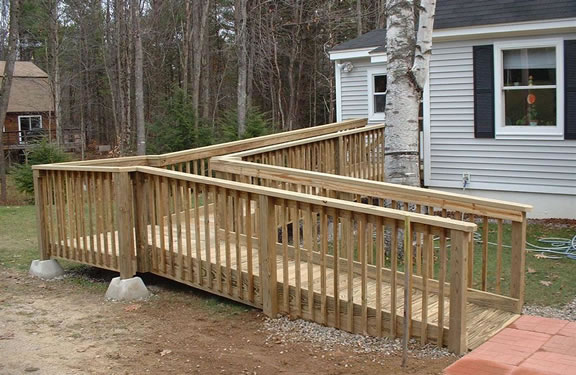 Wheelchair Ramps can greatly improve the accessibility to your home for loved ones who are using walkers, scooters or are confined to a wheelchair.  Just a  tiny flight of stairs is an almost impossible feat for somebody in a wheelchair – or their caregiver – and in those situations a properly constructed wheelchair ramp becomes a much needed requirement to remain safe and comfortable in your home.  If you recieve in home services like nursing or physical therapy, a wheelchair ramp will give your service providers a nice entryway to bring their epuipment in and out of your home.
Alone Eagle Remodeling has experience building wheelchair ramps and we can work with you to build the wheelchair ramp that suits your needs and budget and looks like it was built with your home.
Wheelchair Ramp Services We Provide:
Wooden wheelchair ramp construction.
Wheelchair ramp design and consulting.
Remember This Formula for Wheelchair Usable Ramps: 1 on 12.  That means for every foot of rise up to an entrance, you'll need a minimum of 12 feet of ramp. A steep ramp can make it impossible and dangerous for someone in a manual wheelchair.  If your available space allows then it's even better to have at least 20 feet of ramp for every foot of rise but somewhere between 12 and 20 feet is ideal.
Did You Know…?
Ramps must be at least 42″  wide and have handrails on both sides.  In most cases, we would prefer to design your ramp to be 48″ wide to allow a sufficient amount of room while operating your equipment.  For every 30 inches of ramp rise, there must be a level rest platform at least five feet long. Additionally, wherever the wheelchair ramp changes direction, a five-by-five foot rest platform must be provided. If there is a drop off on one side of a ramp, some kind of protective curb is necessary.  Stairs can be integrated to the design with a latched door for side entries or access for non handicapped individuals.
As you can see there are many factors that need to be considered when building and designing the ideal wheelchair ramp for your home.  Alone Eagle Remodeling can help guide you through the process right to then end result of a beautiful new and usable wheelchair ramp for your home.
You have plenty of choices when it comes to choosing your remodeling contractor in Pennsylvania and we'd like the opportunity to prove to you why we are the best and one of the most sought after professional contractors in the area.