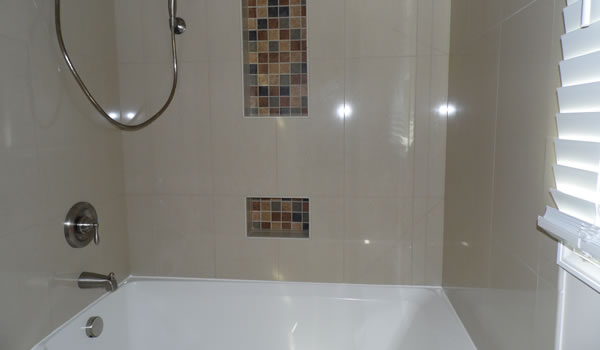 Bathtub Replacements are an affordable bathroom remodeling project that gives your bathroom that "brand new" feeling once again.  Bathtubs have come a long way in the last few years and if you're living in an older home, or have older apartments or rental houses that you manage, this is an improvement project that gives you great value.
Generally a bathtub replacement can be completed with a full day of professional help.  Because it's a bathroom and the presence of moisture is a given, it's important that your bathroom be carefully inspected after removal of your old tub.  Alone Eagle Remodeling would be looking for any signs of water intrusion or anything else that might need to be fixed, or repaired before your new tub goes into place.
There are companies out there that just want to get your tub replacement job done at a fixed price or cover up your problems with a tub liner, this doesn't always result in the best quality work (that you can't always see) and could cost you money in a few years down the road.  Alone Eagle Remodeling takes on each bathtub replacement client with the expectations of making their bathroom a much better place, at a fair price.
Bathtub Replacement Projects We Can Do:
Walk-in Bathtub Replacements
Soaker Tub Replacements
Tile Bathtub Bases
Handicap Bathtubs
Your bathroom remodeling project is important to you, and it's important to Alone Eagle Remodeling.  We have plenty of experience remodeling bathrooms and we'd love to have the opportunity to transform your bathroom into the one you've seen in a magazine, or at a friends house, or maybe you have your own plans. We can help them become reality!