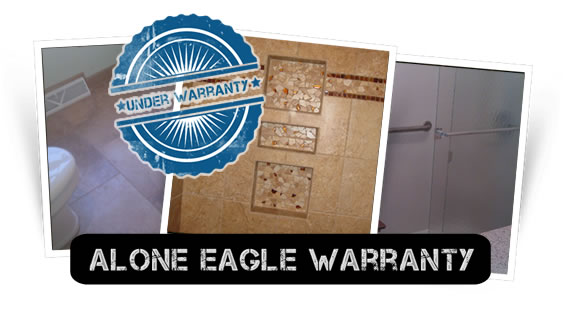 Alone Eagle Remodeling understands that all homeowners wish to gain "Peace of Mind" with the work being done in their home.  We are constantly researching the best products and methods on the market to ensure that the final product exceeds the expectations of our clients and meets our strict quality standards.
We provide a FULL SERVICE – One Year Warranty on all of our projects, free of manufacturer defects and product failures.  In addition, we will meet the expectations and offer assistance with any extended warranty or Limited Lifetime warranty of any product that we supply and install.
AFTER THE FIRST YEAR – There is NO NEED TO WORRY!  We will continue to warranty our workmanship as long as our company is established and operating and as long as you reside in your home.  We will continue to stand by our work and ensure that whatever the case may be, we will be there to address any concerns or questions.  We have built close relationships with many of the suppliers and manufacturers that we deal with and feel that it is our duty to take charge and make all necessary contacts to meet with representatives at the job site to assess any situation.  When it comes to materials that are outdated from a manufacturer warranty, we may be unable to offer a replacement to match, however, if new products need to be purchased by the homeowner we will offer our services free of charge provided any issue with failed materials is caused from our work.
_________________________________________________________________________________

LIFETIME WARRANTY SHOWER PROGRAM
When we install ceramic tile or stone on your project with Laticrete premium thinset mortars & grouts your project is covered by a lifetime warranty. We use the best possible installation techniques and materials available and prefer to use Laticrete tile & stone installation products.
We recommend Laticrete HydroBan liquid waterproofing membrane for all of our shower installations which provides the ultimate protection of water penetration and crack isolation properties.
Laticrete products are Green and are GREENGUARD certified. Laticrete products include MicroBan which prevents mold & mildew growth.