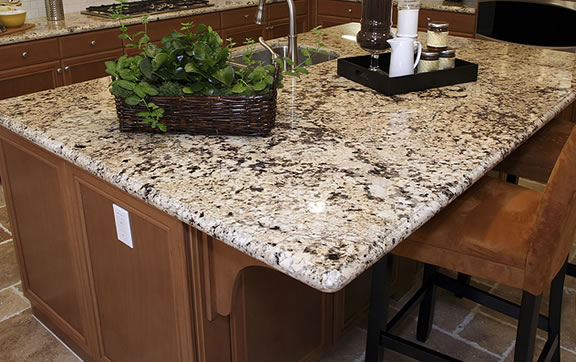 New Kitchen Countertops can make your kitchen feel brand new again.   There are some homeowners who only choose to have a specific part of their kitchen remodeled and new kitchen countertops are one of the most common projects.
When it comes to choosing new kitchen countertops there are several things you'll need to consider in your planning.  One of the most important things to keep in mind is your kitchen cabinets because your new kitchen countertops will be placed on top of your existing kitchen cabinets or cupboards.  You'll likely have overhead cabinets as well, so it's important to try and choose kitchen countertops that will compliment your existing decor.  If you are looking to replace your kitchen cabinets as well then it may be a good idea to pick out everything at the same time.
What Types Of Kitchen Countertops Are There?
Corian Countertops: DuPont™ Corian® solid surface countertops are one of the most versatile countertop materials on the market.  Corian® solid surface countertops are easy to cut and custom fit and with over 100 colors to choose from there is sure to be a Corian countertop that will enhance the look of your kitchen.
Granite Countertops:  If it's in your budget nothing granite kitchen countertops look awesome.  As granite is becoming more and more popular the price has slowly softened a little so it's often within many homeowners remodeling budgets.  Granite is very durable, takes heat well and won't crack if it's installed properly.
Marble Countertops: Marble is probably one of the most expensive types of kitchen countertops. Marble countertops will also require frequent cleaning and maintenance, as it easily stains. There are sealers that can be applied to help prevent the staining.  Marble is luxurious and looks excellent in any kitchen if you have the budget for it.
Ceramic Tile Countertops: Ceramic tile countertops are quite durable and very easy to clean.  They are also fairly inexpensive depending on what style and pattern of tile you choose to use.  Ceramic takes heat well but if an individual tile is cracked or broken sometimes the repair can be costly.  Always keep spare tiles if you have a tiled countertop just in case the pattern is discontinued.
Once you have decided which type of materials you would like to use for your kitchen countertops you will need to decide how your kitchen countertop will be installed.  Alone Eagle Remodeling specializes in installing new kitchen countertops into Pennsylvania homes.
Transforming your current kitchen into your dream kitchen is what Alone Eagle Remodeling does best. Your new kitchen will improve your quality of life and make your home more enjoyable. If you're a homeowner seriously wanting a change and your ready to start speaking with potential contractors for your kitchen renovation project, please give us a call or fill out our form to request your estimate.