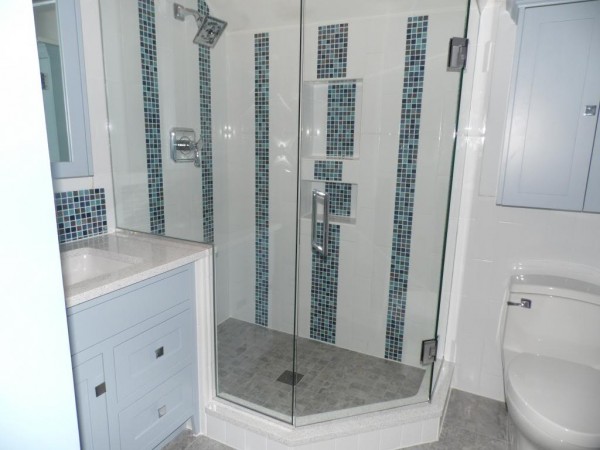 Tiled or Stone Showers are becoming more and more common in home remodeling projects because they look great and offer the homeowner a level of elegance they usually only find in a 4 or 5 star hotel.  Alone Eagle Remodeling can bring that luxurious and relaxing experience into your own home with a custom tile or stone shower.
Here Are A Few Tile and Stone Shower Ideas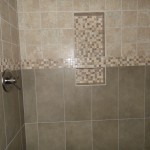 Dual Tone Tiles – The contrast of colors with dual toned tiles is a very popular look and helps make your shower area really stand out.  Usually dark and light shades of a similar color looks really good when used together.  Alone Eagle Remodeling can provide you with many tile samples until we get the look just right.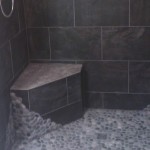 Natural Colored Tiles or Stone – If you're looking for an earthy ambiance in your bathroom, or a very relaxing atmosphere than you should consider naturally colored tiles or stone.  White, Black and other neutral colors like beige or off white can make for a very visually appealing shower.  Marble , Granite and Slate are all popular materials for custom showers.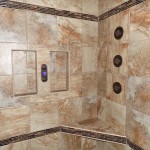 Borders, Pebble in-lays,  Recessed Shelves & Built in Niches –  These details are the small things that really make a difference in how your finished shower will look.  Contrasting borders, usually with smaller tiles, or pebble in-lays and floors help enhance the look and feel of your new shower and compliment your existing bathroom decor.  Recessed shelving and or/niches make it easy to store your personal items.  There are many enhancements we can make to your tile or stone shower.
 
Tile and Stone Showers Projects We Can Do:
Tiled Showers
Stone Showers
Transforming your current bathroom into a more enjoyable experience  is what Alone Eagle Remodeling does best. Your custom tile or stone shower will improve your quality of life and make your home more enjoyable. Not only that but a professional bathroom renovation job can make a great positive impact on the resale value of your home too.
We provide a FULL SERVICE –  1 Year Warranty on all of our projects, free of manufacturer defects and product failures.  In addition, we will meet the expectations and offer assistance with any extended warranty or Limited Lifetime warranty of any product that we supply and install.
_________________________________________________________________________________

LIFETIME WARRANTY SHOWER PROGRAM
Alone Eagle Remodeling recommends the use of Laticrete HydroBan liquid waterproofing membrane for all of our shower installations.  This product provides the ultimate protection against water penetration and crack isolation properties.  Their superior properties allow us to offer you a lifetime warranty on your tile or stone shower.  The product is environmentally friendly and will help prevent mold and mildew problems.
If you're a homeowner seriously wanting a change and your ready to start speaking with potential contractors for your bathroom renovation project, please give us a call or fill out our form to request your estimate.