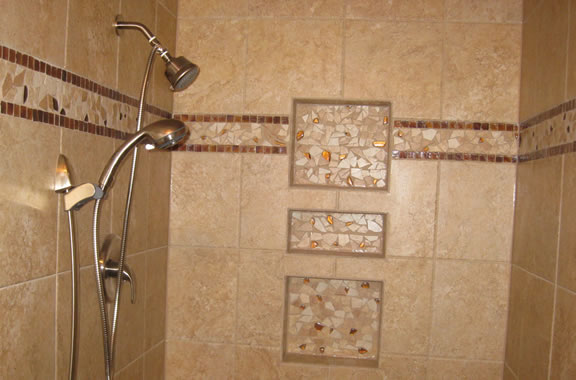 Replacing a shower in your home is an affordable bathroom remodeling project that help you get more out of your bathroom. Shower replacements have come a long way in the last few years and if you're living in an older home, or have older apartments or rental houses that you manage, this is an improvement project that gives you great value.
Shower Replacement projects can vary in scope from a simple replacement with a pre-fabbed shower to a very sophisticated custom tile shower with a linear drain.  Alone Eagle Remodeling has over 15 years of experience with Bathroom Remodeling projects and shower replacements.
Because it's a bathroom that you're remodeling and the presence of moisture is a given, it's important that your bathroom be carefully inspected after removal of your shower. Alone Eagle Remodeling would be looking for any signs of water intrusion, leaking plumbing or anything else that might need to be fixed, or repaired before your new shower is installed.
Alone Eagle Remodeling takes on each shower replacement project with the expectations of making your bathroom a much better place, at a fair price.
Shower Replacement Projects We Can Do:
Handicap Safe Showers
Tile Shower Bases
Your bathroom remodeling project is important to you, and it's important to Alone Eagle Remodeling. We have plenty of experience remodeling bathrooms and we'd love to have the opportunity to transform your bathroom into the one you've seen in a magazine, or at a friends house, or maybe you have your own plans. We can help them become reality!