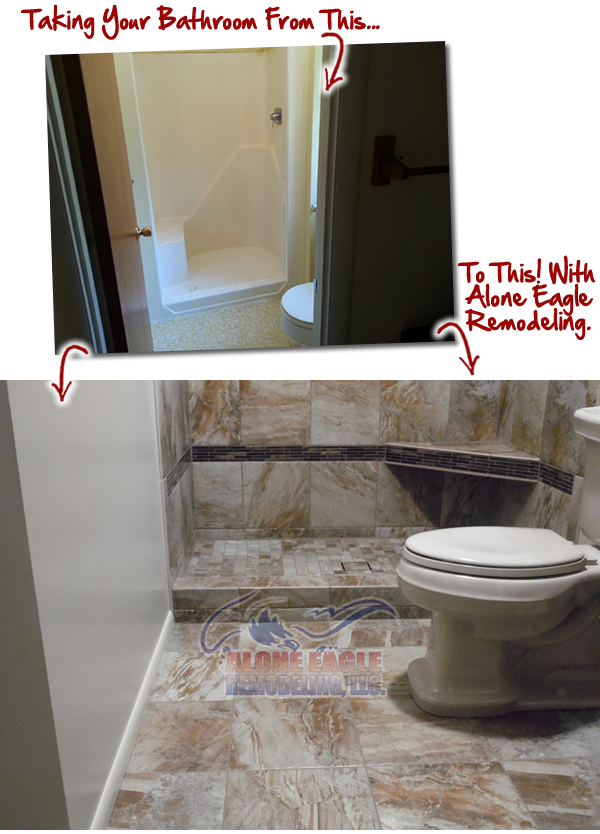 Bathroom Remodeling is one of the best investments you can make in your home, consistently offering the best return out of many other home improvement projects.  If you've been doing your research you probably already know that many home improvement experts would also agree, that bathroom renovations offer the homeowner the most bang for their buck.
Maybe you want to give an old boring bathroom a facelift with a new tile floor, or backsplash behind your sink.  Maybe you'd like to add a luxurious tile shower with a custom glass enclosure or even add a bathroom where there never was one before! Alone Eagle Remodeling can complete any size or scale of bathroom remodeling project anywhere in our South Central Pennsylvania service area..
With so many material and finishing choices for your bathroom it helps to have a little professional advice and guidance so you (the homeowner) can make educated decisions based on current bathroom remodeling trends and what will compliment your house the most.
We've been renovating bathrooms in Pennsylvania for nearly 15 years, so we've pretty much seen it all when it comes to bathrooms and making them better.  We have many unique bathroom remodeling ideas for every size space and client budget.  Alone Eagle Remodeling will assist you in designing, planning and building a functional and beautiful bathroom that could rival most 5 star hotels (if you really want it to!)
Whether you want to create a spa like setting in your master bath or maybe it's adding a skylight,  a new vanity, double sinks or that giant soaker tub you've always wanted.  From the ground up we can start with offering budget bathroom packages especially since quite a few of our suppliers streamline pricing on specific products that will save you money.  From there, If you want to upgrade your product selections, that is not a problem either!  We will help you get the bathroom you'd love to have.
Bathroom Remodeling Services We Offer:
New Bathroom Construction
Bathroom Design Ideas
Jacuzzi Tubs
Bathroom Vanities
Bathroom Countertops
Elderly Safe Bathrooms
Your bathroom remodeling project is important to you, and it's important whoever you choose pay careful attention to detail especially in a room where so much moisture is present.  Alone Eagle Remodeling has plenty of experience remodeling bathrooms and we'd love to have the opportunity to transform your bathroom into the one you've seen in a magazine, or at a friends house, or maybe you have your own plans.  We can help them become reality!