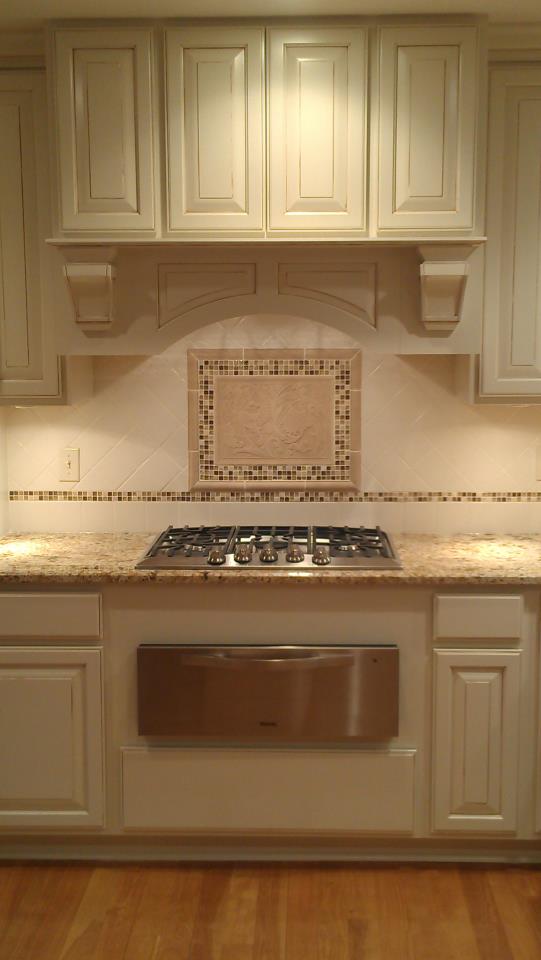 A Tile BackSplash is the one thing that will bring those final touches of elegance to your kitchen and tie the room together.  Because the kitchen is the heart of the home, a custom looking backsplash will compliment everything and serve as a mural for your friends and family to admire.  A Kitchen Remodeling project is full of various selections, pretty much to the point where it can become stressful just getting to the start date of installation.  With all the aspects involved, this is definitely one area that you shouldn't leave empty.
There are quite a few things to consider when deciding on a backsplash for your kitchen and Alone Eagle Remodeling can walk you through the process.  With our experience in Bathroom remodeling and custom tile installations for showers, it's not much different… just another wall in the home.
First thing's first.  You want to have all of your cabinet, countertop and appliance selections etc… done first.  You're core products will be the most important and you will obviously find something to complement those items, especially when you walk into our local tile showrooms (you could actually get lost in them).
Take your samples to the showroom.  Yep, just walk in there with a big box filled with your door sample, wood color, countertop chip, paint colors, picture of your faucet and most importantly – your kitchen design.  This will help the showroom attendants (or even if it's just you) select tiles and mix and match colors.
Stay within your theme.  Depending on your style, you may want a thin stack stone backsplash if you're going for a rustic look, or if you like a classy modern look, subway tile with glass mosaic accents may suite you better.  We see more kitchens recently that have a basic ceramic tile pattern the whole way around and then behind the cook top is a full accent wall of glass mosaics so that may appeal to you as well.  It's all about personalizing things that look good to you but just keep in mind the overall picture because you don't want to over-do it.
Premium materials are important.  We use quality thin set mortars to install your back wall tiles.  You may see on HGTV shows where the self-proclaimed "fix'er up'ers" use the premixed mortar called, Mastic.  That is a BIG No-No in the tile world because Mastic adhesive is made up of organic materials that will start mold growth from the inside out.  A high quality mortar is always a better solution.  We also use more expensive grouts that are stain resistant.  In doing so, you won't have to worry about sealing grout joints every year and not to mention that stain resistant grout will be more resistant to stains from things like:
Spaghetti sauce
Ketchup
Mustard
Kool Aid (darn kids…)
Soy Sauce
Grease
… and just about anything else that you can drop or spill in the kitchen.
Just know that when you hire Alone Eagle Remodeling for your Kitchen remodeling project we will make sure that your backsplash shines!
Here are some other projects that we can do for you in the kitchen:
Do you already have a newer kitchen and only want a backsplash installed?  No problem.  We can come out and set up the tile saw, remove you're old tile and get you a new splash in no time.  If you have additional questions or would like to get moving on a kitchen remodeling project just give us a call or fill out the contact form and we'll set up a consultation!