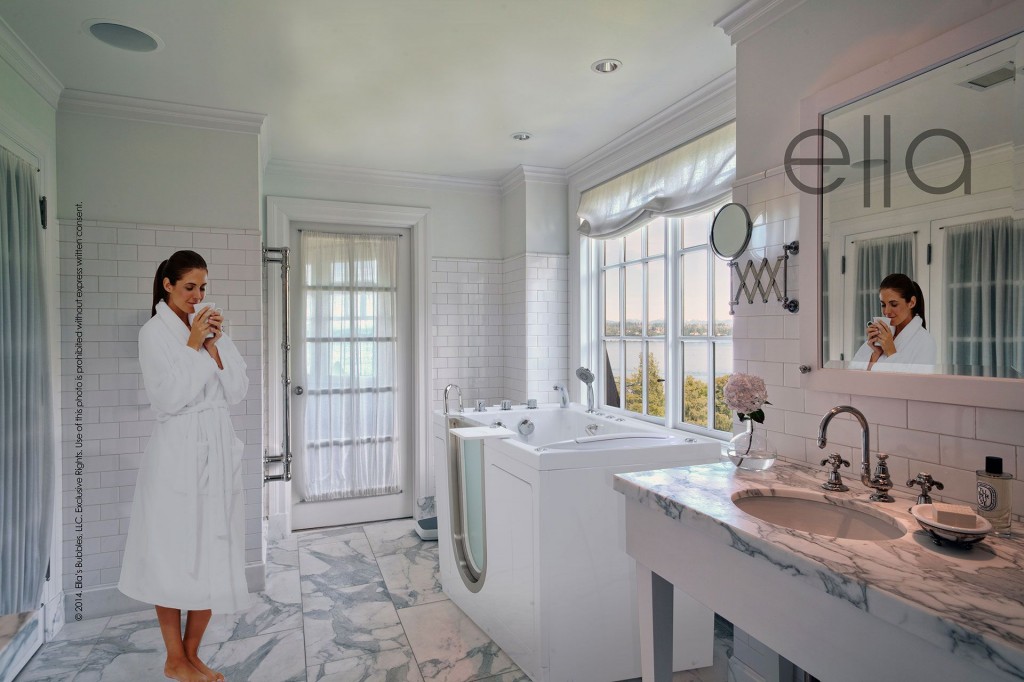 Walk In Bathtubs are quite the elegant touch to your bathroom, especially if you want a therapeutic and comfortable bathing experience.  With plenty of features that come "baked in" to a walk in tub, there's no worries on the accessories end of things.  Complete with grab bars, personal spray wand, roman tub spout, temperature control and an array of air & hydro jets –  we'll be sure that your in good hands with a safe walk in bathtub.
Alone Eagle Remodeling is a dealer for Ella's Bubbles and can provide a full service installation for a quality walk in bathtub.  Whether you need a full bathroom remodel or just a bathtub conversion job, we're your top choice of contractors to serve you in the Harrisburg, Pennsylvania area.  We can transform your bathroom to accommodate a new tub installation – including new plumbing installation for the bathtubs dual drainage layout that will have your tub fully drained in just over one minute.  We also run new electrical from your main service panel to power the bathtubs air and hydro massage system.

SAFETY
With a low threshold to step over and a slip resistant floor, a walk in tub will definitely take all the worries away when your independence is at stake.  Models can be ordered with one or two grab bars to ensure there's absolutely no issues with entry and exit of the bathtub.  Down to an Ozone Sterilization generator, which is an eco friendly – chemical free sanitizer that kills bacteria, viruses and germs.
We understand that cleanliness of your new bathroom and bathtub is important to you so it's our choice to provide and install the best options possible for you.  As the end user, you will be more than happy with our attention to detail on all aspects of your project!
THERAPY
Where would you like to start?  An Ella Walk In bathtub provides Air and Hydro jet systems to specifically touch on all the areas of your  body that you can think of!  A soothing experience is right around the corner and rest assured you won't miss any vital part of your body.
Foot Hydro Massage
Foot and Calf Air Massage
Calf and Leg Hydro Massage
Hip & Thigh Hydro Massage
Bidet Air Massage
Back Hydro Massage
STANDARD SOAKING MODELS
You may not be in to all the bells and whistles that are equipped with a walk in bathtub but just so you know, there are standard models free of electrical motors and jet systems.  With all the key benefits of entry and safety, you can enjoy your regular old bubble bath in peace and quiet.
DESIGNING YOUR BATHROOM AROUND A NEW WALK IN TUB
Don't worry because Alone Eagle Remodeling has you covered in this department.  Bathroom remodeling is our specialty so we can give you that dreamy bathroom that you've always been wanting from a full tile installation on the floor and around your new walk in tub… right down to brand new cabinetry, paint, lighting and trim.  First, you have to find a Walk In Tub Model that will fit your comfort requirements to ensure the final product is just how you want it.  If needed, we can also plan for more of a Handicap Accessible room equipped with grab bars and accessible sinks to accommodate you mobility equipment.
HOW CAN WE ASSIST YOU?
There's plenty of models and options to choose from when shopping for the right bathtub…  You may even have some questions on if it would even work well for you or if a walk in bathtub could even fit through your home?  By getting in contact with us, we'll be sure to have a meeting with you, measure your bathroom, and check all things required to do a proper installation in your home.  From start to finish, we make sure all of our clients are happy so we hope to hear from you!