Planning for functional storage will boost your Basement design and layout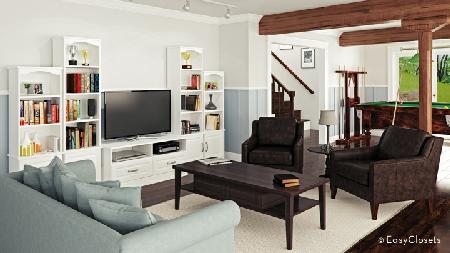 Planning a Basement Remodeling project can be as simple or complex as you'd like it to be but any basement is better served with plenty of closet and storage space.  Alone Eagle Remodeling can walk you through a couple of options when designing a basement closet scheme.  Depending on what exactly you plan to store in the basement, you may need specific measured shelving or space available.  A separate closet for your Christmas or holiday decorations is good idea too.
Framing in a closet is simple.  We would box out framing to your specified dimensions for storage and finish the inside with wall board.  We can install a wire rack system or leave it for you to take care of, if you'd like to do that portion afterwards.  We can install a standard pre-hung door, double pre-hung doors (French doors), bi-fold doors, pocket doors or even sliding barn doors if you want to be fancy.
A Reach-In Closet can be lined with closet cabinetry as well.  If you would like a variety of shelving, cubicles, hanging racks and other features like drawers – all of that can be arranged.  This will keep you from stuffing and stacking your closet sky high.
There are also options that do not require framing a new closet in place if you would like things to be more custom.  
Closet Cabinetry can also be arranged with doors and deeper dimensions that will fit right against a wall and be mounted for security.  It may sound strange, because you would just think to have a standard closet framed and dry-walled but a row of closet pantry style cabinets can be just as effective.
And just to take that one step further, with different colors and cabinet finishes to choose from, a matching Media Center is always an option to spice up the overall look of your basement.
Storage and Media Cabinetry can easily be designed on a digital program to meet your needs and can definitely be a one stop shop.
For more information on finishing your basement with custom closet cabinetry please share your information with us on one of our contact forms and we'll be in touch!