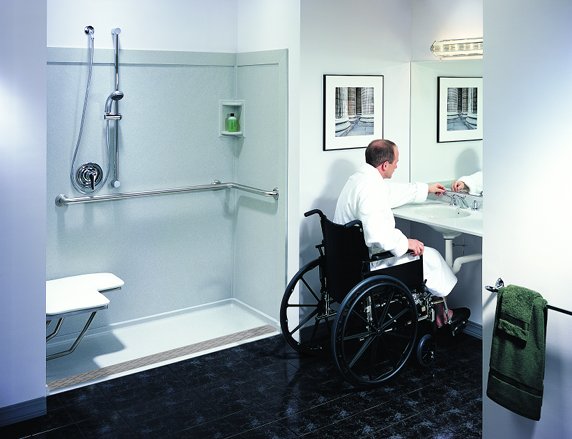 Handicap Safe Bathrooms are a popular home improvement in Pennsylvania.  Grab Bars, Barrier Free Showers and Flip down Shower Seats are especially useful for the elderly or people who have physical disabilities.  You might not think so but, bathrooms can be a very dangerous place for elderly, or physically challenged individuals.
To enjoy a bathroom in private, somebody must be able to stand up, sit down, climb in and out of a tub or shower and in the case of a bathtub, rise from a seated position.  These are all difficult tasks for a handicapped person.  The desire for independance and to preserve their dignity sometimes drives people to do things, they really shouldn't and it compromises their safety.  This is why injuries from a fall in the bathroom, or a slip on a wet floor are quite common.
Don't let your loved ones, or family members suffer with these issues that may affect them.  Alone Eagle Remodeling takes this type project very seriously and our intention is to make your bathroom as safe as possible.
We have partnerships with several distributors of beneficial products for people with disabilities.  Grab bars, Chairs, Railings and More are available to us and we can install them into your bathroom.  Accessibility and independance are important to you and your loved ones but it's also important to have a professional come out and look at your project.  Because we handle projects like this on an almost daily basis, we bring another perspective to the table with over 15 years experience.
If you or a loved one needs to have more accessibility and independance in their life than you should consider the value in a Handicap Bathroom.
Alone Eagle Remodeling can guide you through this project better than anyone else.  We've built many handicap bathrooms for Pennsylvania homeowners and there isn't a problem we can't overcome with a sensible solution to make your home better and safer for you and your family.
Handicap Bathrooms Construction Services:
Grab Bars and Railing
Seats (mounted to wall)
Roll-in Showers
Transforming your current bathroom into a safe and accessible place is what Alone Eagle Remodeling does best. A Handicap safe bathroom will improve the quality of life for those who need it, and make their home more comfortable and enjoyable.
If you're a homeowner seriously wanting a change and your ready to start speaking with potential contractors for your bathroom remodeling project, please give us a call or fill out our form to request your estimate.
Alone Eagle Remodeling has plenty of experience remodeling bathrooms and we'd love to have the opportunity to transform your bathroom.