Simple steps to ensure that a potential Contractor is licensed in Harrisburg, Pennsylvania
A few years ago the Pennsylvania Attorney General implemented laws that would require all contractors doing more than $5,000.00 worth of business per year to register with the state and acquire a license to do business.  Ultimately this will inform both the state and you, the consumer, that contractors are operating with proper business insurance, legal contracts and other various aspects.  The license is to be renewed every two years and renewal periods will allow the contractor to update any information in their profile.
If you have been thinking about doing some remodeling or have already interviewed a few contractors there is a beneficial tool right on the Attorney General's website that will help you do some cross-referencing.  When you land on their home page, you can start by scrolling down to the bottom and you will find the first icon to click on, "CONSUMER INFORMATION – Click here to see if your Contractor is registered"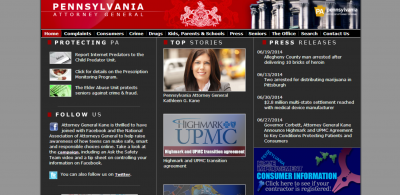 Next you will click on the "Registered Contractors" icon to navigate to the next page.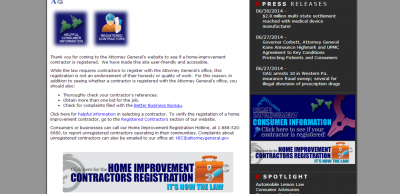 The next page will give you two different options for searching.  In the top portion you may do a general search for a service and service area and the engine will randomly display companies for you to observe.  With a specific contractor in mind, you can go to the bottom portion of the form and add name, address, phone number and/or license number.  The quickest results will show when you can enter a phone number or registration number in case.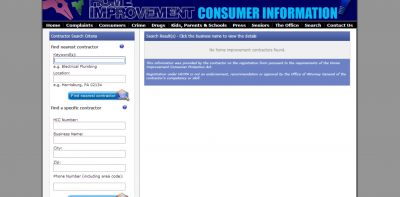 When searching is complete, you will have a page view of company information and it will let you know if the registration is currently active.  If there is an expiration, you will see that notification in bold-red letters.  In this case it may be just that a renewal was accidentally skipped, however, would make for a good time to raise the question or just keep on searching for a firm that is current with their practices.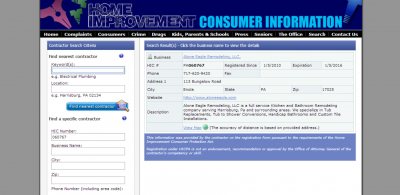 Alone Eagle Remodeling's registration number is: HIC#060767
We stay current with our registration to ensure peace of mind to our client's.  During consultations we provide our registration information, a sample contract to view and information on our insurance policy in case if there is any questions or concerns.  We find that it is a good start to inform you on how we do business and the importance of compliance with state and local laws.