There's plenty of things on this topic to become acquainted with and at some point, the younger generation is faced with aiding their parents to be more comfortable in their own home.  Is that a hassle for you?  Well, think about that for a minute…  How many years did they spend raising you, changing your diapers, making sure your homework was done, paying for college and so forth…
Now take a quick intermission from reading this, call your parents and tell them how much you love them.
Alrighty then.  Maybe we can relate because it's not like my parents are getting any younger.  My parents bought their one and only home in the late 1970's just after I was born.  It's one of those old timey, Victorian style homes in Lemoyne, Pennsylvania that was built in the early 1900's.  There was never much remodeling done because the home was a great fit and my mom loves the Claw Foot Bathtub.  Things built back in those days lasted and of course their home is a standing testimonial to the latter.
Quite a few years ago, I got on her case about that tub because it's very high and obviously hard to step over the skirt.  Since moms are always right, that topic was dropped quickly just about every time I brought up the idea of a shower instead.  As time went by, it was obviously becoming harder for her and then last year we started talking again about the bathroom.  Within that time, she has stopped using the tub in fear of falling and was resorting to a utility shower in the basement…  I recently completed a shower stall and toilet installation in the basement so my parents would have facilities to use while I remodel the upstairs bath.  At this point, the design phase has continued with a large barrier free shower and linear drain installation.
Who's procrastinating…?
Either you or your parents should be putting this off.  Talk about what can be done around the house to make things easier for them.  It doesn't always have to be a full blown remodel but maybe some smaller fixes here and there.  With all the new developments in remodeling and other areas like products, appliances and home care services there's many avenues to research.
You will come to find that stubbornness may be an issue because of many factors:
"If it's not broke… Don't fix it"
"I don't want to change things because I like it the way it is"
"I don't want people tearing up my house"
"I don't want to spend my retirement on improvements"
Being involved is the best thing you can do.  Understandably, you are raising your own family, working long hours and probably don't have the time to even sit down and think about this when you're scheduling all of the school and extra-curricular activities for your kids.  Turning the tables, your parents may not be thinking about it either.  Maybe they are but not saying anything…  Maybe you should just bite the bullet and bring it up?
What "exactly" would you talk about…?  Why not take a look around their house and point a few things out?  There's always something that needs fixed, like cracks in the wall… and at that, maybe recommend changing the dark and dingy paint.  It could be time for a kitchen or bathroom upgrade.  Maybe a few grab bars here and there or a comfort height toilet replacement?
Since I know quite a few professionals in the industry, I've turned to a few of them for some tips and glad that I did!  I think sharing information between colleagues is a great way to benefit everyone so I grabbed up some random thoughts to display in this article.  Without further ado, I'd like to introduce you to Donna Frasca (Decorating by Donna) a Color Expert in Charlotte, North Carolina  and Don Sheppard (Don Sheppard Construction) a Custom Kitchen Remodeling guru in Fairfield, California:

COLOR: "Beige is a No-No…"
(Ladies First) 


"I'm not an expert when it comes to the aging eye, I know there are designers who specialize in that but after 30 years in the biz, I can clearly say that I'm an expert in color with a strong direction when it comes to choosing the right palette for a specific client.
I recently wrote and article on a local senior community that was coming to town here in Charlotte. I looked at their other locations and this is what I found inside. I nearly screamed!
Beige!!!! No, no and no!!! Not only is beige boring but it's not seen well with the aging eye. Also look at the pattern on the rug. That is an accident waiting to happen for those who have vertigo with just too much pattern (or during happy hour, kidding)"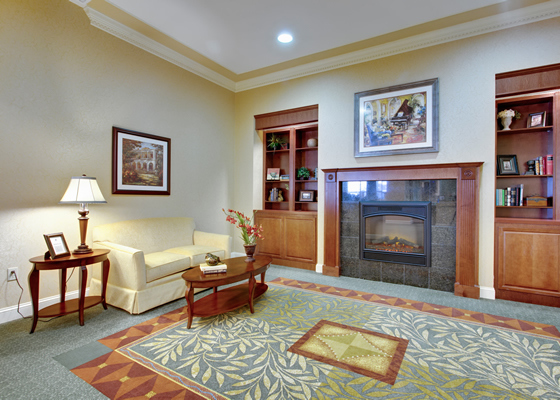 "This is what I'd do if I had to offer color choices for the residents at senior living communities.  Keep it reminiscent of what they had in there previous home. More than likely it was blue!"  
"You can keep it neutral but take it up a few notches and change the beige to more of a yellow or gold."
"Then there are people who don't want color and just would like to keep it safe and simple BUT NOT WITH BEIGE!!! (Beige Rage)"
"The thing is to ASK the person what colors they like and which colors they can SEE well. Keep patterns soft and simple." 
~Photo Credits~ Room Scenes: CR Laine Furniture | Color Pallets: Donna Frasca

KITCHEN DESIGN: Adding an Under Cabinet Microwave
"If you're remodeling your kitchen with plans to age in place, consider planning it with an under cabinet microwave drawer design.  This type of microwave allows for easy access at countertop height without having to reach up and above the stove like other range microwaves require.  Under cabinet microwaves help keep your countertops uncluttered and open for other tasks.  The drawer design automatically opens and closes at the push of a button, allowing you easy access to your food items without having to bend over to reach inside as you would have to do with a typical microwave and with a swinging door.
You can easily include a microwave cabinet into your design – these have an open area on top designed for under cabinet microwaves and typically a drawer or two below that.  You can either slide a free standing microwave with swing door inside or a surface mount drawer design microwave.  A free standing microwave will not only mean bending down to reach inside for your food, you would also have to remove the unit to clean inside the cabinet cavity since it's open to spills and dirt on a regular basis.  An under cabinet microwave with drawer design will mount flush to the cabinet face – eliminating all gaps, offering ease of use and the cleanest installation both in appearance and maintenance."

Finding a good starting to work with your parents is "key" and open communication goes a long way!  With all these tips on what to do to your parents house… Have you thought about your own home?  Plenty of parents end up moving in with their kids just to stay away from Senior Living Care and still have their independence.  If this is the case, larger projects like an addition or finished basement suite may be in the near future.  Paying close attention to even the small things like color which Donna pointed out really does pay dividends to people's well being and overall mindset.  Getting from one room to the next can be quite a task, even though it seems easy to you – throw in a crazy carpet design and problems can occur.
Let's hear from you!
I can go on for days with great recommendations, however, great ideas always come from a social discussion.  Please, feel free to post a comment below, share your experiences or ask any questions.  If you don't have a G+ account yet, sign up because it's way better than facebook… and don't worry because google already knows everything about you anyway.