A great discovery for 2013 are some new offerings from the Swanstone Corporation- a manufacturer of solid surface products and one of our key products used in many bathroom renovations.   Swanstone is made in the USA, heat & chemical resistant, provides a renewable finish and an ongoing popular product in the Kitchen and Bathroom Industry. 
There's a wide variety of colors to choose from and shower wall kits are available in many different configurations, width's  and heights such as, 60" Height (for Tub surrounds), 72" Height and 96" Height for (full coverage) floor to ceiling installations.  Here are some of the additional Swanstone Shower Accessories:
Wall End Trim Kits
Recessed Shampoo Shelves
Recessed Soap Dishes
2 shelf Corner Caddies
Molded Corner Seats
Tile showers definitely require a lot of maintenance and we find many homeowners still want the tile look but just can't keep up with the daily cleaning.  The Swan Corp has introduced two new Shower Wall Patterns: 
12″ Square Tile Pattern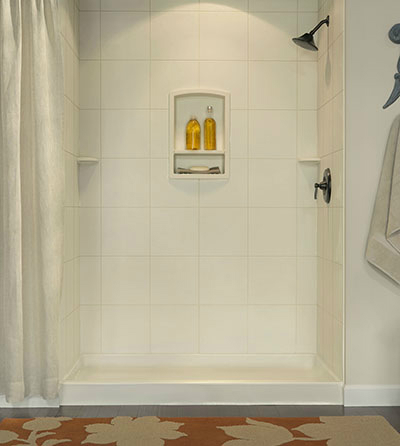 Subway Tile Pattern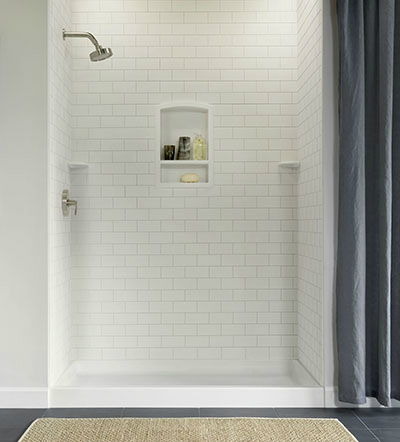 For ADA Accessibility and Aging in Place, The Swan Corp also has a new shower base offering with an attached Linear Drain on the skirt side of the base (an upgrade from their original design with attached ramp and center drain, which is still available).  This option will give you a complete barrier free shower to avoid tripping and allow easier use with medical equipment to enter the unit.  Water runoff will channel to the linear drain and prevent leaking onto the bathroom flooring.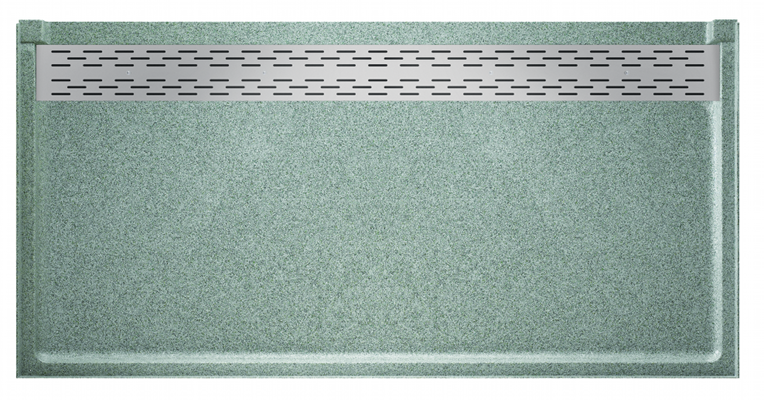 Barrier Free Showers and wet rooms are a growing trend in the Harrisburg, PA area and this new Linear Drain feature brings a one step installation of a combined drain and shower base.  In more custom applications, we can install these shower bases with Ceramic Tile on the shower walls and bathroom floor.  Please contact us for further information, design and installation methods!