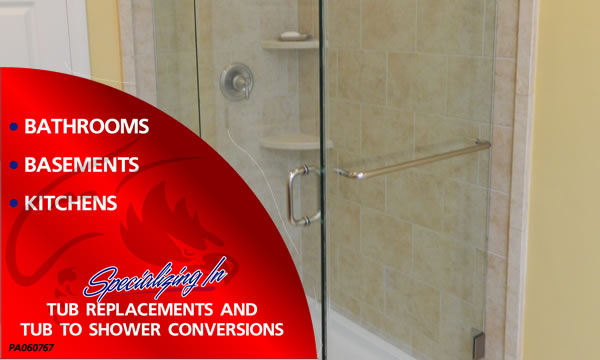 Alone Eagle Remodeling provides professional home remodeling services all throughout New Cumberland, Pennsylvania. We're well known for our top notch bathroom solutions and can also bring you a wide variety of services to choose from like Kitchen Remodeling, Closet Remodeling, New Floor Coverings and Finished Basements. Our goal is to be your go-to contractor for not only your household but all of our new and returning clients in New Cumberland. We bring the best solutions and a wealth of knowledge to the forefront.
There are many ways to remodel the kitchen or bathroom in your New Cumberland home including tub replacements, walk in bathtubs, tile flooring, new faucets or whatever else needs fixed or replaced. We can provide simple packaged solutions for Kitchen, Bathroom and Basement remodeling that will remove all of the stress involved with visiting dozens of showrooms and box stores to choose your products.
Remodeling your New Cumberland Home will Keep it New and Inviting
There are plenty of different avenues that you can take with remodeling your home. If you're not cut out for a larger project or a full house remodel, things can always be broken down into phases. We can work with you to complete one area or one room at a time. Obviously a good yearly schedule of things to do in your home will keep things fresh, especially when you want your house guests to be comfortable.
Alone Eagle Remodeling has Your Back!
From our very first meeting, we will do whatever it takes to plan a successful project. You won't have to spend any time worrying about what will happen next because we run a tight schedule. Our tools are kept orderly and we keep a clean job site down to the very end when our Cleaning Service is tidying up your home! All aspects are covered because we want you to be comfortable throughout. Whether the project is large or small, Alone Eagle Remodeling will take your visions and turn it into something real.
Here is a Map of our Services for our New Cumberland PA Clients:
Quite frankly, we're glad that you've spent some time on our site as it is a valuable resource to many. If you would like to become further acquainted and learn more about how we can help you, please feel free to fill out one of our contact forms. We will be sure to get in touch with you in a timely manner.