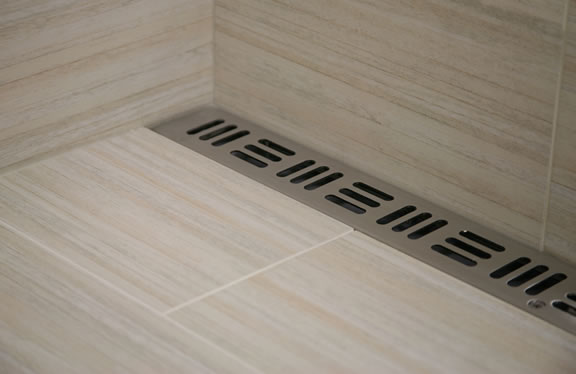 Linear Shower Drains are a unique way to finish off your custom shower.  Many people aren't familiar with linear drains yet, and it's because it's something that is still relatively new in American homes.  When most people think of a shower drain, they think of a circular hole in the middle of their shower.  Linear drains (long) actually run the length of your shower or wet room.
Why Choose A Linear Shower Drain?
Because linear shower drains are longer and cover more surface area than a standard circular drain, they greatly improve the performance of your shower drain, quickly channeling and removing water away from the shower or wet room floor.  Linear Drains are also available in many grate finishes (chrome, brushed nickel etc…), and even custom Tile Top drains where your floor tile is integrated with your drain cover virtually camouflaging the drain and presenting a nice clean look to your floor.  If you're looking for the small details that really make your bathroom remodeling project stand out then consider adding a linear drain to your shower or wet room.
Who Does Linear Drains in Pennsylvania?
Alone Eagle Remodeling specializes in linear shower drains sales and their installation.   We can come up with something that will really finish off your shower or wetroom nicely and we can install the product for you as well.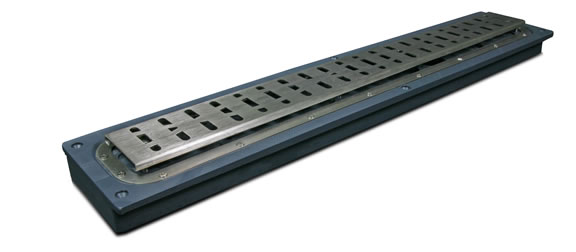 We Provide Linear Drains For:
Steamrooms
Saunas
Shower Stalls
Changerooms
Your bathroom remodeling project is important to you . Alone Eagle Remodeling has plenty of experience remodeling bathrooms and we'd love to have the opportunity to transform your bathroom into the one you've seen in a magazine, or at a friends house, or maybe you have your own plans. We can help them become reality!