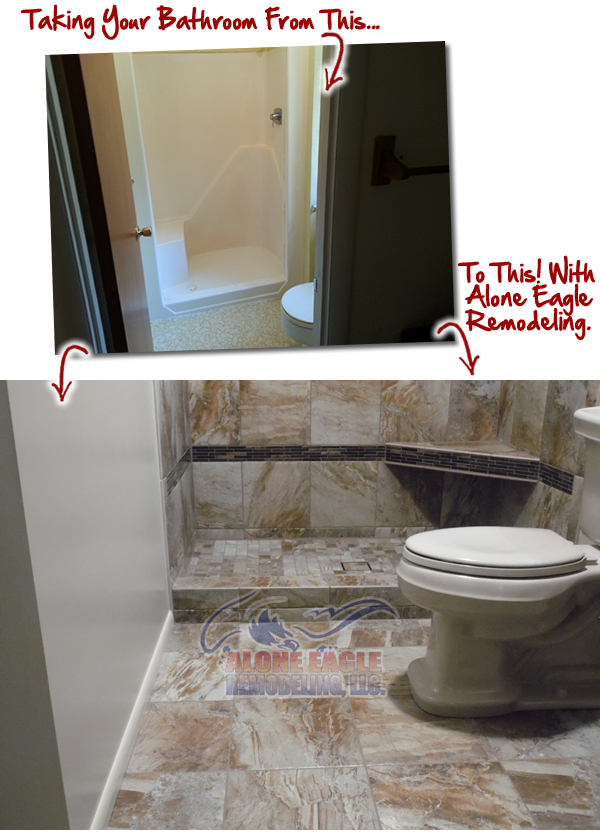 After closing out one of our last projects of the year I wanted to blog about this for multiple reasons and touch base on how simple it is to customize a shower.  The term "customize" usually equates to spending more money but I look at it like this…  When was the last time you purchased a Filet Mignon from the grocery store?  Pretty expensive, huh…  Yep they definitely are but after you slap those on the grill and have a taste, the price is always forgotten.  I prefer this analogy because although we do not eat steak all the time, showering is a daily process so additional dollars can offer a more enjoyable experience.
Most homeowners don't realize how close they are to creating such a luxurious experience within their own home.
Here are some quick notes on the scope of work for this Mechanicsburg PA project:
Remove shower, cabinetry, all plumbing fixtures and walls to create more space.
Install new tile floor.
Frame in new doorway to form one room (instead of having the sink outside of the bathing area).
Install customer supplied cabinets, lighting, faucets, toilet etc…
Build a larger size shower.
Install a MOEN IoDigital Shower System – 6 Body Sprays | High Mount Rain Can Shower Head | Digital Control  Center (to operate the shower by the touch of a button)
Design was simple.  This space did not require moving around the location of shower, toilet and sink.  Simply removing a wall (and a false wall behind the shower) opened up the shower area and overall room so that my client's don't have to walk sideways to enter and exit the bathroom.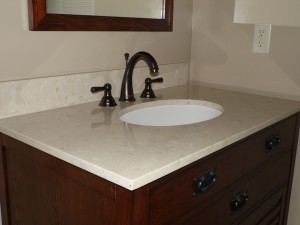 The color scheme is filled with warm earth tones.  This will bring a relaxing feel to the room.  The slate look tile has a high shade variation which brings a pallet of multiple colors and abundant options when selecting paint colors, wood finishes, countertops etc…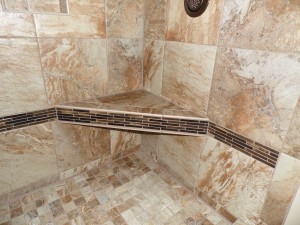 The Tile Pattern is basic throughout.  You may think a square pattern installation can be boring, however, in many situations a "busy" tile pattern can become too much.  All of the tile for this project is the same color for the whole room (just different sizes like on the shower floor).  A top and bottom glass mosaic band was just enough to break up the wall pattern and display the body sprays (and not to mention how well the glass accents the Oil Rubbed Bronze faucet finish).
Building this shower was complicated.  It's only 3 walls but there was a lot going on behind the walls with plumbing and electrical for the faucet installation.  The extra cost for the Moen digital features are worth it IMO…  The body sprays are set to target upper, middle and lower back/front.  The digital controller speaks volumes for many situations including the overall ease of operation and options for temperature settings (when accommodating multiple users).  I predict that digital faucets will increase in popularity with folks planning to Age in Place.  Our senior's will experience comfort and controlled water settings – depleting the strain of turn-handle faucets.
In your eyes this may be just another shower that you've seen on the internet, however, our client's had a vision of what they wanted in a shower experience and I was granted the opportunity to bring that alive!  Custom showers don't always have to be flashy looking tile, shiny glass mosaics and wacky tile designs exploding 6 ways to Sunday…  Custom is how YOU want it to be.

Some of our additional services include:
Finished Basements
Interior Painting
Handicap Accessible Modifications
Barrier Free Showers
Would you like to know more about this project?  Please leave a comment below and we can answer questions and discuss further details!