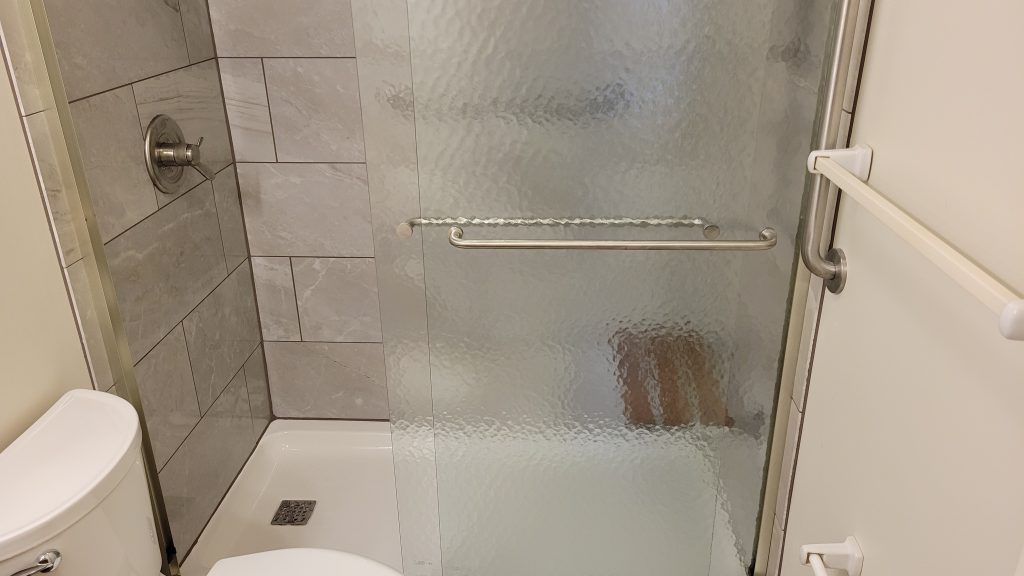 On a recent tub to shower conversion project in Harrisburg, PA I had a situation where an elderly homeowner fell while getting out of her tub & shower unit. Stepping over the tub rail becomes a task and was time to make a change. In this situation we decided against installing a full tile shower because the process can take a bit longer. She looked at some fiberglass and acrylic shower floors and didn't care for the bottom of the pans. Most acrylic shower do have a molded in mat for the bottom but still smooth overall. This can still get slippery with soap and water on the floor.
A steel shower base with porcelain finish seemed to be the right choice on this project. The curb on this base is very low so that even adding shower doors makes the step up simple to get over. The bottom of the floor does actually have a sandy grit finish on the bottom. It's not harsh feeling on the feet and is basically baked into the porcelain coating. In this application, the job moved a bit quicker with the shower base install. Tile walls were a "must" so we had the freedom to mount blocking as needed for the seat and grab bars. The recessed niche in the wall was built into the back wall. Mounting the niche behind you actually does protect the best from water spray.
A quick note on the shower doors: Wow, that glass kinda looks outdated?? Most all suppliers nowadays are ONLY stocking clear glass because that actually is the fad for the last several years. Getting "obscure" glass is very doable it just takes up a little time for ordering. I feel like the suppliers and manufacturers get tunnel vision with what's in style and forgets a little about older folks that just don't want clear glass. Sometimes clear glass can make you feel out in the open or that people could see in the shower easier. I think a lot of my elderly customers that had a slip or fall do want the shower area to feel like a safe space again so some of these smaller selection choices can help out big in the long run.