Does size matter?  Well it probably does when it comes to the pocket book but for the most part all bathrooms are small.  In fact, (aside from your closets and mud room) bathrooms are generally the smallest rooms in the house.  Either way, the topic of this blog is always a consideration when you're planning to remodel your bathroom and formulating a budget.
One of our most recent jobs was a hall bath in Mechanicsburg, Pa where we completed a full remodel of the given space.  Although the room was somewhat long, it was very narrow but still had a toilet, standard sized tub & shower and double vanity (if it was any smaller, I would've had to go out in the hallway to turn around and think…)(…it's a task in itself to set up a camera and tripod in some of these rooms to get decent shots).  This project was around a total cost of $16,000.00 and the duration was approximately three and a half weeks.
All that being said here are some photos and I think this is a good example with a basis for comparison: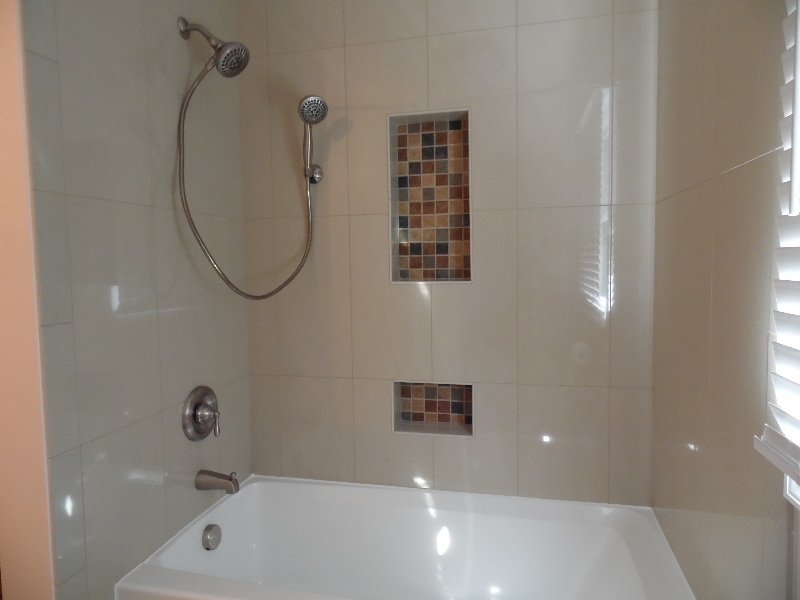 Knowing that labor will always cost more than materials our client had a budget to follow and made decisions based on importance so I will reveal the thought process:
Must Have
Mid to High range porcelain tile that will be durable.
High end grout that will offer low maintenance and high performance (we provide that regardless…)
Dual recessed shower niche.
All walls replaced, finished, primed and painted.
Pantry in-between sinks and toilet topper cabinet.
USB port receptacle (awesome feature).
I also provide premium tile mortars, waterproofing products and flooring membranes.  Some may look at these items as an "add-on" but I feel that they are necessary to provide maximum protection and results towards the overall outcome.
Must Save
Basic Brushed Nickel Faucets, curtain rod and accessories.
Basic toilet.
Basic fiberglass/acrylic bathtub.
Basic light fixtures and fan/light combo.
Lower grade cabinet construction (and save money from "Box Store" purchase).
Stock sized, pre-fab Granite Countertops instead of custom production with a fabrication shop.
Listed above are just a few things to consider while making selections for a project.  Cost can vary and there's even more ways to save money like vinyl floors, dirt cheap cabinets, tile that is under $1.00 per square foot, cultured marble or plastic countertops and many other options.  All things considered, you would spend less for the actual product, however, it would still take the same amount of time for installation.  My best advice is to contact a reputable firm and weigh out your options.  A contractor can help with recommendations that will fit your needs but also provide valid insight when it comes to products and applications that are necessary.  Ask yourself if this project is something you want to last for a significant period of time or a facelift that will droop five years from now.
Understandably, when it comes to a bathroom breakdown it can be hard to redirect your finances to have things operational again to aid you in your daily routine.  A typical family of four will use the shower approximately 20 days out of the year so your interests should be in choosing the best available products that will withstand the constant abuse that your bathroom endures.