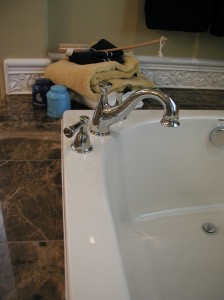 If you are contemplating remodeling your bathroom, or if the work is already finished, you may be stumbling with the final touches.  There is a long list of points to consider, after all.  The smallest things can make the biggest impact, so make sure you have a plan in mind before the work begins.  Many of the bathrooms are small so the finishing touches will play an important role.
Color and lighting are the two major players in determining the mood of your bathroom.  Is it to be a relaxing and calming oasis, or an efficient and utilitarian room in the house that gets you on your way to more important things?  Maybe you truly need a combination of the two.  The paint colors will need to come before the final accents are installed, so consider bringing paint samples with you to shop for the drawer and cabinet pulls, light fixtures and mirror frames or medicine cabinets.  You may find that the hardware you love may guide you to your ideal color choice, or choices, not the other way around. For example, if you choose bright and or cool colors, you may like pewter or brushed stainless hardware.  With warmer color schemes, you may choose gold or bronze hardware.
Using bright white, or cool (blue, green, purple) pastels will create a relaxing room, welcoming, polished and clean.  Using warmer colors like cream, beige, red, orange, brown or gold, will give you a very formal, classic feeling.  This comes back to how you plan to use the bathroom.  Will it be a spa-like oasis? Will it be a busy family bathroom, or will it be a guest bathroom?
Lighting can run the gamut between casual and formal as well.  Will there be one light shining on the mirror over the sink? A bank of lights over the mirror? Wall sconces? Ceiling lights?  Consider installing a dimmer switch in case you've chosen to go with a multi-purpose bathroom, so you can relax and unwind in a soothing bath of bubbles with subdued light.
One important thing that is often overlooked in decorating and accessorizing a bathroom is the window treatment.  For example, if your bathroom has limited incoming natural light, or limited options for added lighting, you may want to leave the window mostly uncovered.  You have options here, from a sheer curtain style or perhaps a simple day/night shade.  You could also hang a curtain on the bottom half of the window, giving you privacy and light or better yet, a wooden shutter will bring some class to the room especially if you're thinking about subway tile or bead board wainscoting.  This would be a perfect solution for an upstairs bathroom.
These days there are SO many options for smaller accessories like soap and lotion bottles for your bathroom as well.  Many people are even repurposing household items like mason jars to look like chic, stylish, NEW containers.   We have also seen small wooden stepladders repurposed to serve as a towel holder that attaches to the wall.  We've seen baskets, boxes and bowls as well.
One final, and very simple type of accessory that you might consider adding to your beautiful new bathroom, is a plant.  Bathrooms are the perfect places for plants because of their moist atmosphere.  If you have a bathroom with any kind of natural light, a low maintenance plant like a Pothos will thrive there.