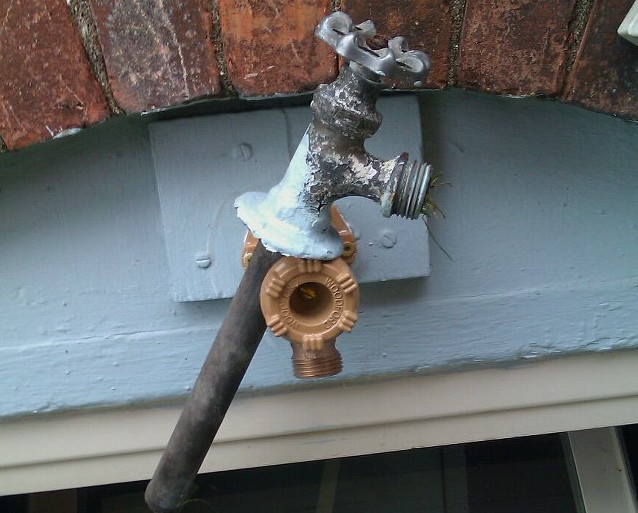 Winter time is notorious for frozen pipes and water bursts if you're not careful.  In my daily path of travel, I see more garden hoses still hooked up to hose bibs than I can count.  Just know that's the first problem with emergency leaks in your home.  If your hose is still hooked up, the water will freeze and expand back through the hose faucet into the house.  The pipes will expand and burst leaving you with a mess of water…  Obviously this is something that can go on for hours if your not home during a pipe burst and create tons of damages.
The first line of defense, as mentioned above, is to unhook your garden hoses.  There are other gadgets like foam covers to put over the hose bib to eliminate spot freezing or you can go for the modern fix and have a Frost Proof Hose Bib installed.  These have a rod inside that mounts the actual shut off portion further back so there isn't water sitting in the pipe through the cold outside walls of your house.  There is also a siphon that will allow for the excess water to drain out of the pipe.  This is pretty much the best route or you could have an additional water shut off installed inside the basement to have most of the pipe drained out for winter.
Aside from that, when temperatures get real low you can also do a slow drip in a house faucet.  Generally I would recommend a basement sink that is closer to the water main.  If water is constantly moving, it will have a harder time with freezing.  A slow drip is all you need because you typically don't want to waste water.
If you're having and emergency leak inside you home, don't waste time getting in contact.  We can stop leaks, repair interior pipes, replace hose bibs & faucets and other plumbing repairs.