Let's face the facts…  You wake up every morning – when it's time to get dressed you go to your closet and shuffle around like there's no tomorrow!  Most homes that have a walk-in master closet are stocked up with the nice "wire rack special" provided by the builder.  Of course it will hang your clothes but you will find that many of these systems are not at comfortable heights to reach (oh… and by the time "the Mrs." fits all of her shoe boxes and purses in there it becomes cramped with little organization) but we can configure a layout to benefit everyone!  Our client's wanted a similar system but with more of a high end cabinetry feel to match up with the wood work in the master bathroom.
Here's a few shots before we started this closet project in Hummelstown, Pa:
The wish list:
Have more visible floor space to locate shoes.
Eliminate clothing items dragging on the floor
Sufficient shelving units for storing shoe boxes and other items
Adjustable rods
Adjustable shelving
When this was designed, we left the option to install the rods and shelves on site.  The top and bottom racks are at uniform heights throughout but the left side has one cubicle where only one rod is used to hang longer dresses and suits.  The shelves above the rods are removable and there is a few inches of space at the tops of the cabinets for additional storage.  Just to tidy up the look and feel of the room, we added a chest of drawers in the center.  The drawer boxes are dovetailed and provided slow-close guides for ease of operation.  Just above the drawer chest leaves a few options for a tie rack and additional adjustable shelves (+1 for the guys!).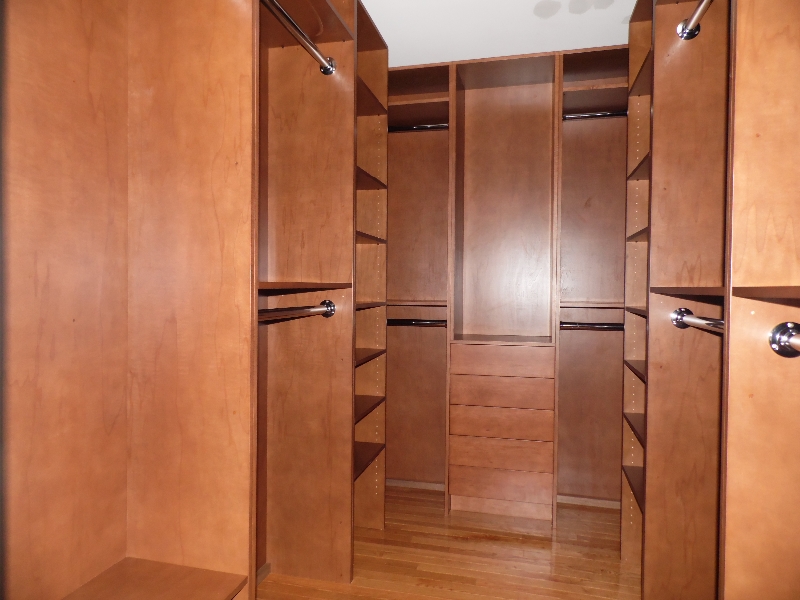 A simple design can make a world of difference in your everyday life and morning rush to prepare for work.  Master Closet Suites are offered through several large manufacturers, however, you may find a better fit with a local cabinet maker and company (like us) to install them for you, help with design based upon the existing space and coordinate the products with a bathroom remodel or existing layouts.