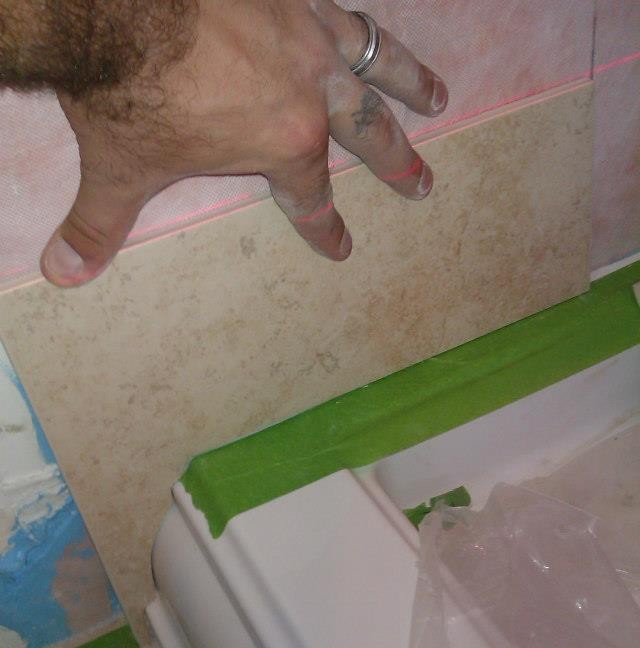 Thought that I would show off a little bit of my handy work…  I'm actually proud of this photo from a few years ago because on a contractor forum I posted it up and got a huge response of "likes" for being the "money cut".  Just looking at it the other day got me thinking about how it's not really all that hard to do but mainly that's it's tedious work (shave a little off – re fit – shave some more off… and so on).
In regards to the photo, I've spent years now looking at jobs where a contractor was fired, quit or got a deposit and never showed up.  To the ones that did do some work in the home before completely turning a shower into a train derailment always seem to not have good clean cuts.  Probably rushing or doesn't have the right tools but who's to say… all I know is that it's a pattern.
---
Just for good measure – Here's some video footage of a job I did where a tile shower was abused with horrible cuts (among other things) before the contractor left town with the homeowners money:
---
Now I'd have to say that there's a lot of great tile setters here in the Harrisburg area, many of whom I know, and they would all shake their head at that one…  Tiling a shower is not all that complicated if your head is in the game.  As for me, I'd say that any contractor should be able to share all the good knowledge with you during a home consultation so that you know can get an idea of the experience level.  You could end up hiring the wrong guy who doesn't know what to do and has to resort to watching youtube videos to become a tile expert.  You probably don't want that noise…
If you're in the market for a newly tiled shower, don't be afraid to ask a few questions on our contact forms or give a call.  I can gladly talk to you about the various aspects and get you an idea of how much it costs to see if you'd like to move forward with a project.