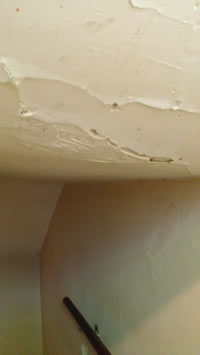 Many homes in the Harrisburg, PA area are filled with old plaster walls that are now worn out, weak and cracked.  Plaster installations were the wave of the future back then and respectively handled the test of time very well, however, you may be faced with replacing walls to give your home that much needed update that you've been wanting.  You may not have a full list of plaster experts at your fingertips because it has unfortunately become somewhat of a lost art (and most of the remaining plaster tradesman are now in the drywall field) but they are still around if you search deep enough.
Will a professional only come and finish drywall if a homeowner hangs it?  Sure.  (Just make sure your joints are tight…)  In all seriousness, a good finisher can be very picky about how the board is installed and usually prefers to hang it themselves or follow an independent hanger.  It's the same concept with a tile contractor… a good one would rather do all the preparation themselves before setting the actual tile.  On the flip side, hiring a professional will keep the project flowing.  If you have a large ceiling we will bring along our drywall lift to hang multiple boards in no time!  A drywall lift is a great investment when it comes to ease of installation.  Instead of straining backs and shoulders, we hoist each board on the frame and crank it up to the ceiling.  The lift will hold it in place while screwing to the ceiling joists.
Removing old walls can be messy so we make sure to set up tarps with zip poles, floor protection etc… to contain and protect the work area as best as possible.  Depending on the condition of the existing walls, a thinner drywall board (1/4" or 3/8" thick) can be installed over the existing walls.  In those applications we have to take a good look at other details like electrical outlets and existing trim (baseboard, casing, crown moulding etc…) because the possibility of removing and re-installing to make proper depth corrections becomes more of a focus.
Removing wallpaper only to find out that it didn't come off the walls very clean can give you a headache as well.  You will come to many surprises when removing wall paper like:
Glue residue
Multiple layers of wall paper (that one really hurts…) (pro's included.)
Divots and damage on the walls that need touched up
Removing paper from the drywall as you peel off the wall paper.
All of the scenario's listed above will often promote a full skim coat of the walls so that every square inch of the walls are smooth and uniform for painting.  For this application we us a rapid setting compound so the walls can be re-coated multiple times in a day, which will speed up the job for your convenience.  On average, we apply two coats of rapid setting compound and then move on to the "Money Coat" with a regular pre-mixed drywall mud (Oh, and we call it the Money Coat because it's smooth as glass…) 

Here are some of our popular service areas for drywall installation and finishing:
If you're interested in having drywall work in your home or as a part of a kitchen, bathroom or basement remodeling project feel free to contact us!  Alone Eagle Remodeling will offer an exceptional cost for the project followed by our reputation for the highest quality craftsmanship, service and respect to you and your home.