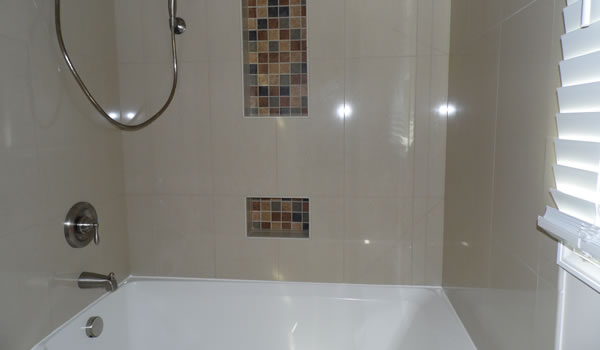 Many homeowners live by the phrase "If it's not broke… don't fix it" but waiting too long to repair your shower facility can do more harm than good.  Uncovering walls will bring surprises like damaged framing, rotted subfloors, termites <ick>, mold etc…  Here are a few signs that you may need a tub replacement:
Soap dish fell off the wall.
Missing grout.
Moldy grout.
MOUNDS of caulking layered and layered and layered and….
Porcelain bathtub finish is eroded.
Loose tiles (followed up by duct taping trash bags to the wall…)
Clamping pliers attached to your faucet handles (If this is you, stop reading and pick up the phone…)   😉
I could probably go on for days because I've just about seen it all when it comes to age and temporary fixes in a bathroom, however, when these signs occur is when it's time to start looking and planning for an upgrade.  You can spend endless hours searching the internet or local home centers for products and some of which are not my style when it comes down to the durability factor.  Choosing the best materials is most beneficial when done so with an experienced professional so I'd like to touch base with you on some of the options that I prefer and openly promote for a happy end user!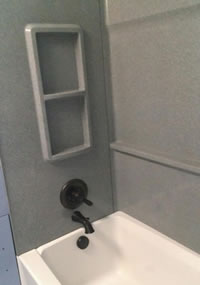 Alcove Tub and Shower Units are typically an entry level system especially when it comes to a tight budget.  Alcove units will have all of the shelving molded into the wall surround and the wall panels will lock together with a caulk free seam.  The Swanstone – Veritek series offers all of perks with 5 color selections ranging from solid colors to granite colors.  Swanstone is an industry leader when it comes nice finishes, long lasting performance and worry free shipping & packaging damages.  If you are in need of grab bar installations with your tub replacement, an Alcove surround will not fit the bill.  These systems nail up to the stud framing and are designed to float freely with heat and moisture.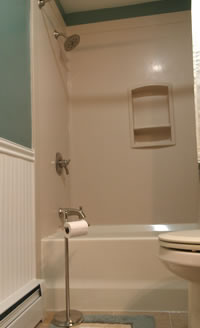 Solid Surface Shower Wall Units will adapt to most any bathtub.  Corian and Swanstone have been standing in showers for decades and have become a proven solution with the test of time.  Solid surface materials are highly heat resistant, waterproof and easily repairable if scuffed or scratched.  Between the two manufacturers, there are hundreds of colors to choose from.  A solid surface system will glue up to wall board or cement backer board.  Accessories are ordered separately so your shampoo caddies and be placed to desired locations.  Grab bars and safety gear can be attached to the walls (extending through to the studs or frame blocking).  If your tub surround has a window inside of it, I order custom fabricated window trim units to make an exact fit around the window sill area which will offer a completely seamless sill and frame to block water penetration.  Trim and custom options are endless with these materials.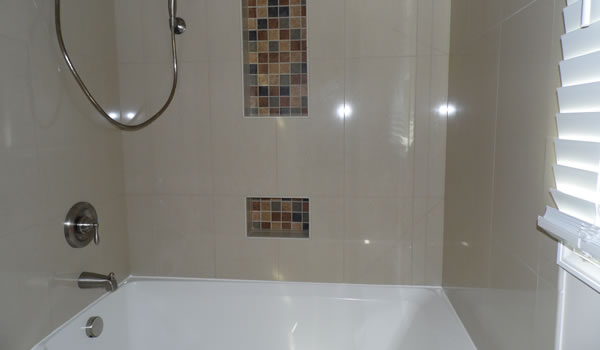 Bathtub Replacements with Tile Walls are more preferred these days.  Having an additional bathroom to use is more practical when it comes to tile work because the project does take a bit longer when it comes to tile work and grouting.  After the new tub is installed there is additional time wrapped up in wall preparation and waterproofing.  I prefer to use higher quality grout like urethane or epoxy so a wait time of 7 – 10 days is required before the shower can be used.  Custom sized niches can be built to size and location requirements.  It's common for a tiled bath wall surround to have multiple niches (high and low) to accommodate bubble baths and showering.
For further information and questions regarding Swanstone, Corian and custom tile installation please feel free to contact me or leave a comment below and I will offer my best recommendations for your Tub Replacement project!