Installing Custom Tile Showers in all of Hershey Pennsylvania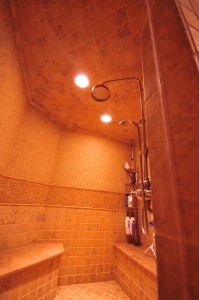 Now that you've been thinking of a possible bathroom remodeling project it may become apparent that your shower is overdue for an upgrade.  Many homeowners are gearing towards a tile or stone shower for the warmth and comfort as an added touch in their Hershey home.  Alone Eagle Remodeling enjoys working in Hershey PA and we provide our clients with top quality solutions when it comes to a tile shower installation.
You may have even seen our truck passing through your neighborhood and just so you know, we provide tile shower installations in all areas of Hershey including:
Bachmanville Estates
Cambridge Commons
Stafford Heights
Although a tile shower that we complete can of course look just like what any other experienced tile contractor can do, however, we want you to know that we take our time to build your unit right.  There are various steps in building a shower from plumbing installation, shower floor construction, wall preparation, layout and waterproofing the unit before tile goes up.  Each step is important – especially the waterproofing.  We use high quality waterproofing products to ensure that the structure will be safe from moisture.
Selecting tile is a fun process.  We can bring sample boards to your home or you can visit some of the tile showrooms in the area that we deal with.  You have much more freedom to customize a shower with all the various sizes, colors and types of tile.  Compared to a plain old wall surround, a nice tile design will be admirable and a nice conversation piece for your friends and family.
Accessorizing your shower will bring out your creative side.  There's so many available options when it comes to accessories and whether your budget is high or low there's always a great combination of things that will benefit you.  We can add shelves, niches, benches, grab bars, custom shower faucets and shower door enclosures that will bring all the functionality in to play.  Good placement of accessories that coordinate with a tile layout will bring a clean and sleek appearance.
Taking your first shower will be breath-taking!  With all the time we'll spend together from initial meetings, selections and doing the work you will be ready to jump right in.  Obviously your water bill may increase for the next month or two… only because we specialize in creating a spa-like feel that you won't want to leave.
If you'd like to work with our team for a bathroom project or a custom tile shower just give us a call or contact us through the website and we can set up a meeting at your home.  We'll take your visions and transform them into reality.