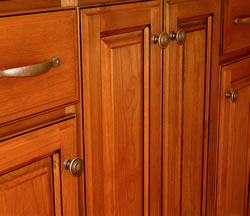 Kitchen Remodeling starts with making the Right Decisions
Aside from the various selections that you have to make with a kitchen remodeling project, a good starting point is to decide if you would like a full replacement or a re-facing job.  There are cost differences between the two but mainly comes down to your goals with the overall look and feel of the room.
Cabinet Refacing
Refacing your cabinetry is a good option if the cabinets are still relatively new and you would just like to change the looks and add a new Corian, Granite or Quartz countertop.  There are plenty of companies that offer this niche type service and will have plenty of options between colors and door styles.
If your kitchen cabinets are worn and kind of shabby at this point, you may want to decide against refacing.  Leaving old cabinets may not be a good combination with supporting the weight of a heavier countertop.  Adding cabinetry to a refacing job will leave you with a bunch of old ones on the inside and new ones patched into the mix… it's all preference.
Cabinet Replacement
Replacing your kitchen cabinets doesn't take all that much longer, especially if you want to keep the same design.  Removing the existing cabinetry will be a better situation with fixing any plumbing lines that are looking "iffy" and when replacing a floor, will allow the new flooring installation to flow throughout the room for the cabinets to sit on.  At that, you will have an easier time moving appliances around if they need to moved out for service or replaced.
Here are some other benefits when replacing your cabinetry:
New countertops will be supported by brand new cabinets
Inside of cabinets will be NEW
No problems with delamination of face frame veneer
Design options are more abundant
Larger selection of cabinet brands, styles and colors
Knowing the difference between the two options will help you move forward with your planning and design phase of your Kitchen Remodeling project.  It will also aid you in who you will hire for the project because not all companies offer both of these services.  If you have additional questions about Kitchen Remodeling, feel free to contact Alone Eagle Remodeling and we'll do our best to accommodate you.