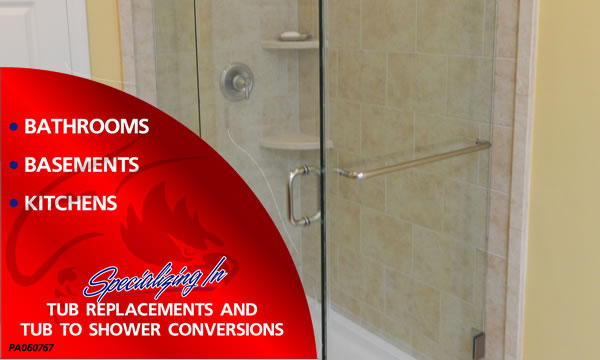 Alone Eagle Remodeling provides professional home remodeling, and home improvement services in and around Lewisberry, Pennsylvania. We provide full service bathroom, basement and kitchen installations. On top of that, we bring a full menu of services within all of these topics so if you're planning for a successful home project, it's a great thing to check with us before moving forward.
We service all neighborhoods and subdivisions within Lewisberry PA:
Deer Run Estates
Lakeside Village
Stonybrook Manor
Whispering Waters
Villas of Spring Creek
Let's Cut to the Chase! There are plenty of things that you need when it comes to hiring a licensed and fully insured contractor and we could go all day listing out reasons why. Just so you know, here are just a few things that Alone Eagle Remodeling can bring to the table!
UPFRONT PRICING – From our first appointment we can get going with offering a great idea of how much your project will cost. Many times, we can give you a detailed price point but we are definitely not a firm that takes 2 to 3 weeks to get back to you. We make sure all basis are covered and in writing before starting any work!
RELIABLE SERVICE – You can count on us for a full days work and we work hard. Long days can be in order to keep your project on schedule and we comply however it takes. Alone Eagle Remodeling runs a tight knit schedule from job to job. Before the project starts, we keep you updated on ordering and scheduling and we definitely keep you in the loop while we're working. Being reliable comes hand in hand with communication and we strive at that.
PEACE OF MIND – We want you to have it! And that's what we aim for. Our bulletproof installations are something that we pride ourselves with and it's all for you. When work is complete, we don't want to see you again, unless you want more work done! Backed by a strong warranty, our work will leave you at peace, knowing things are done correctly and above industry standards. You won't see us leave a job unless you're happy!
Home Remodeling Services We Provide in Lewisberry, PA:
Have you found what you've been looking for? If not, let us know or keep navigating our website for more ideas and options. Better yet, feel free to get in contact with us and we can talk about what exactly you would like done in your Lewisberry home. Whether you're just getting started with the planning stage or ready to start work soon, Alone Eagle Remodeling will be able to accommodate you however you would like!

Oops! We could not locate your form.