If you live in Lemoyne Pennsylvania, I'd bet that by reading this blog would let you know that I'm in tune with how your bathroom looks?  It's not only that I grew up in Lemoyne but I have worked there quite a bit over the years and these 5'x7' rooms are neck squeezers especially when you have kids…  Seems like every bathroom has plaster walls, tile panel wainscoating, claw foot tubs, cast iron pedestal sinks, built-in medicine cabinets and of course… that radiator that's always in the way (or tucked in a corner where a tub or shower should be relocated to).  In short, just a small room with absolutely zero storage.
Most times a re-design will serve you better.  We can do things like:
Relocate your radiator
Move your shower (they will typically fit better on the south wall…) Even if there's a window there, we can do a window replacement and incorporate that into the shower wall)
Add a vent fan/light combo
Replace old wiring
I'll quit there and just call it – Lemoyne Bath Makeover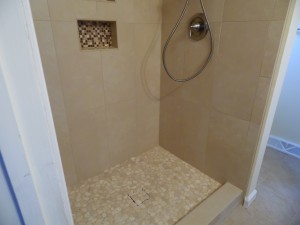 Tile Shower Walls can give a big appearance for a small space.  Of course the classy look of subway tile is always a great option but if you'd like a large format tile we can install that as well.  An oblong tile (such as 12"x24" or 13"x20") can be installed in a vertical pattern to give the room more height.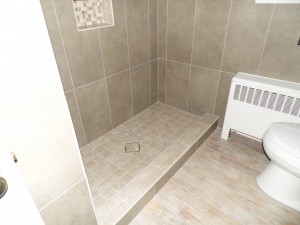 Tile Floors in a small space are not as crucial.  You can select most any size and as long as there's a good contrast with the room, you'll be in good shape.  Wood plank tile is a newer fad and allows for multiple layout patterns.  Depending on the size of the overall floor or length of the room, a wood plank can easily be turned for a running bond in either direction.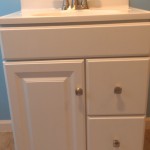 Space Saver Vanities and Recessed Medicine Cabinets are a great option that will give you additional storage for items that you would normally stack on a random book shelf that you hung yourself…  Many of these vanities are designed as a "Furniture" piece that will bring a warm feel to the room.  Recessing your medicine cabinet will offer some standing room and keep the front of the cabinet away from your head while brushing teeth or leaning over to turn on the faucet.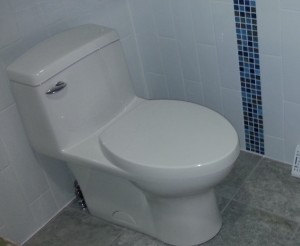 Compact Round Front Toilets will offer more floor space especially if the toilet is crunched close to the bathroom doorway.  Despite the size, many manufacturers spec these out with the same flushing capacity as larger toilets.  You can always set off the room with a Toilet Topper Cabinet for extra storage instead of stacking rolls of toilet paper on the tank lid.
Paint selections can be as simple as a light color on the walls and a white ceiling.  If you're looking for a more custom approach and wish to stay away from a white ceiling… just choose your desired wall color first.  Stay in the same color pallet for the ceiling choosing at least two shades lighter.  This will still lighten up the ceiling and bring enough contrast to break up the two planes.
Are you just about tired of your existing bathroom and walking sideways to get to the hallway…?  Give us a call!  Although the room size may stay the same we specialize in making great use of space!
If you have a minute or two, please leave a comment below and tell us about some things that you'd like to change in your bathroom.