There's TONS of shower drain options and manufacturer's on the market today.  It can be a challenge just to find a drain that will match up with your preferred style and appearance but here are a few tips when making your selections:
Make sure you can match up to your faucet finish (or you could make it easy and choose a tile-top drain…)
Choose a drain that is manufactured by a reputable company.
Ensure that your contractor is knowledgeable and can make recommendations with different products and installation adaptations.
I'm currently working on a custom bathroom in Hummelstown, PA and our client is going for a sleek modern looking bathroom so the first option that popped in my mind was the Wedge Wire drain by My Shower Grate Shop.  After showing a few pictures it was an immediate addition to the project!  Although there's not many finish options there polished-stainless grate matched up pretty good to the Brizo (polished-chrome) faucets.
I normally install a shower floor via Thin Bed Method over the Traditional Shower Bed, because this drain is a clamping style drain (Traditional) I just had to make some standard changes to my installation.  Pictured below is the shower drain installed with the floor mud in place.  I used a drain flashing membrane by Noble Company that will connect the pre molded membrane to the clamping collar and adhere to the mortar bed.  A foam template is used while forming the shower floor so the flashing will seat properly in the mortar.
Although I mock the drain before installing floor mud, it is a good practice to double check prior to waterproofing application to calculate the finished height of the drain vs. tile thickness and height.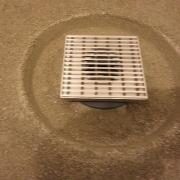 After the floor mud has cured the flashing membrane will be tied into the drain with proper adhesives and sealants…  Next steps:
Apply waterproofing to the full unit and allow sufficient curing time.
Flood test shower pan.
Fill around drain with pea gravel to prevent weep hole from clogging.
Fill divot around drain with additional mortar as final preparation for tile application.
A complete shower floor with the right style drain will spice up your shower (oh, and I might add that the tile and layout matched up perfectly to the drain without cutting…) (always a bonus!).  This drain grate is easily removable for cleaning and blends well with the overall appearance.  Tile showers are simple!  Select your drain, tile etc… and we'll make things happen!