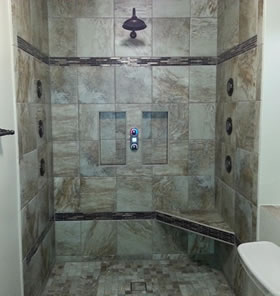 How Much Does It Cost To Remodel or Build A Bathroom?
Bathroom remodeling still remains one of the most popular home remodeling projects for Pennsylvania homeowners.
As a professional remodeling contractor we speak with homeowners on a daily basis who want to remodel their bathroom and the number question we are always asked is to give a "ballpark" or "rough" estimate for the project costs.
First off… It's extremely important you understand this article is just for illustration purposes.  It's not going to be an accurate reflection of what YOUR bathroom remodeling project will cost but will give you exactly what you're looking for… A rough, ballpark estimate so you can start your planning.
Bathroom Remodeling Costs Are Based on Square Footage
Most home remodeling projects are based on the square footage of the space.  Bathrooms are no exception, but they are however considerably more money per square foot than other projects, such as a basement remodel or a room addition.    $250 – $500 or more per square foot is pretty common for professional remodeling contractors to charge.
Why are bathrooms more expensive per square foot?  Bathrooms are usually a lot of work to put it mildly with several more layers to the construction process because water is involved.  You also have the vanity, the toilet, the shower and bath and all the plumbing that must be worked around too.   The bigger the bathroom, the more expensive the remodel.
So let's use our imagination to come up with some bathroom measurements… Let's say you have a smaller bathroom that is only 70 square feet in size.  If you're paying in the mid-range of $300 per finished square foot you're bathroom could potentially cost $21,000.  That might seem like a large number to most homeowners, but remember this is a rough estimate, for mid-grade materials and a professional contractor doing all of the work.
The price will go up as the size of the bathroom increases and the material choices get more luxurious.  Want a heated tile floor?  Want a barrier free tile shower? tiled walls?  The price is obviously going to be more because of the additional work and materials involved.
Let's look at a high end example if you have a bathroom on the larger size, or maybe you want to build a new bathroom in your basement  of 130 square feet.  For high-end luxury materials you could expect to pay anywhere from $400 – $600+ per square foot.  130 sq ft x $400 = $52,000.  If you think that's an expensive bathroom, they can still go up in costs from there!
Remember, these examples above are for a complete bathroom makeover, not just a single element of the bathroom.  If you only wanted a new bathroom floor, or a new vanity or the installation of a walk-in tub your overall will be lower.
Remodeling My Bathroom Seems Very Expensive?
You may be already thinking the numbers quoted above sound very expensive. Maybe you've heard of a friend or neighbor doing it for less, or another "professional" contractor offering to do it for much less.
The pricing examples above (and they are only examples) would reflect having a true, licensed, insured professional remodeling contractor complete your project.  Not someone masquerading as a professional.
Bathroom makeovers are not DIY projects and definitely not for someone who isn't knowledgeable about bathrooms (think about mold!).  While it's easy enough to change the vanity or a add a new faucet it's an entirely different ballgame to rip out and rebuild your shower.
Who Offers Bathroom Remodeling in Mechanicsburg?
Alone Eagle Remodeling LLC is a full service bathroom remodeling contractor based out of Enola, PA.  We specialize in complete bathroom makeovers and remodeling projects.  If you'd like to receive an estimate from a professional remodeling contractor with an eye for detail and reputation of high quality finished bathrooms then give Todd Stull at Alone Eagle Remodeling LLC a call today!