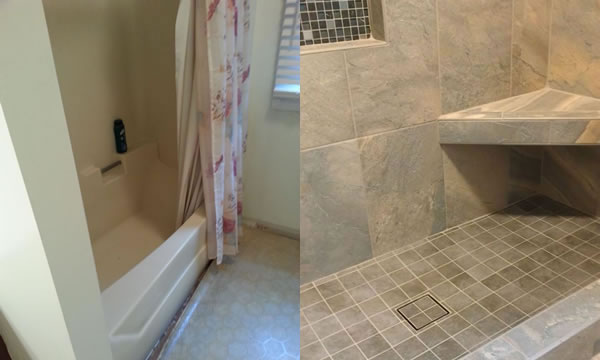 Before                                                                                        After!
There's quite a few angles to this question that can cause a whole train derailment of worries… Normally because your friends at work or a Realtor you know simply demands that your house just has to have a bathtub.  Are they living there?  Will they be buying the home…? (exactly my point…)  Now don't get me wrong because if you have a one bathroom home here in the Harrisburg area that's in need of a total makeover, you may want to have the old tub removed and a new one installed.  BUT if you're up in your years, having physical problems or just simply do not ever take a bath… you may want to turn the question to yourself and make it your way for the time you're living there.  That could be forever or the next four years but it's ultimately your decision.
You could end up limiting your customer base on a sale but new families are looking for larger homes anyway… On the other end of the spectrum, if you pull the plug on a remodeling project… chances are that the new buyers don't particularly care for your color and design choice anyway.  In time they will remove what has been done and make it their way.  Considering that, if you know that you're going to sell the property then focus on functionality and basic design for the room.
Bathroom remodeling is more personal than any other remodeling project in your home.  Compare that to a siding job…  you may be a fan of bright blue, pink or purple but doing that color in a full house siding project would probably not be a good decision.  Your neighbors would probably take pictures, upload to facebook and proceed to call you the "crazy one" on the block.  And speaking of homes and neighborhoods in general, that is something that could limit your buyer base anyway.  Thirty years ago there were a lot of 3 bedroom homes with 1 1/2 bathrooms (at approximately 1,700 sf) that were great for a family of 5 but now the majority of families are looking for double the size which always rules out older neighborhoods.
How do you decide which way to go with your Bathroom Remodel?
Alone Eagle Remodeling LLC is a full service bathroom remodeling contractor based out of Enola, PA.  We specialize in complete bathroom makeovers and remodeling projects. Our attention to detail with the tile we install and all products for that matter is bar none!  If you'd like to receive an estimate from a professional remodeling contractor that knows the ins and outs of building a high quality finished bathroom at an affordable price then give Todd Stull at Alone Eagle Remodeling LLC a call today!