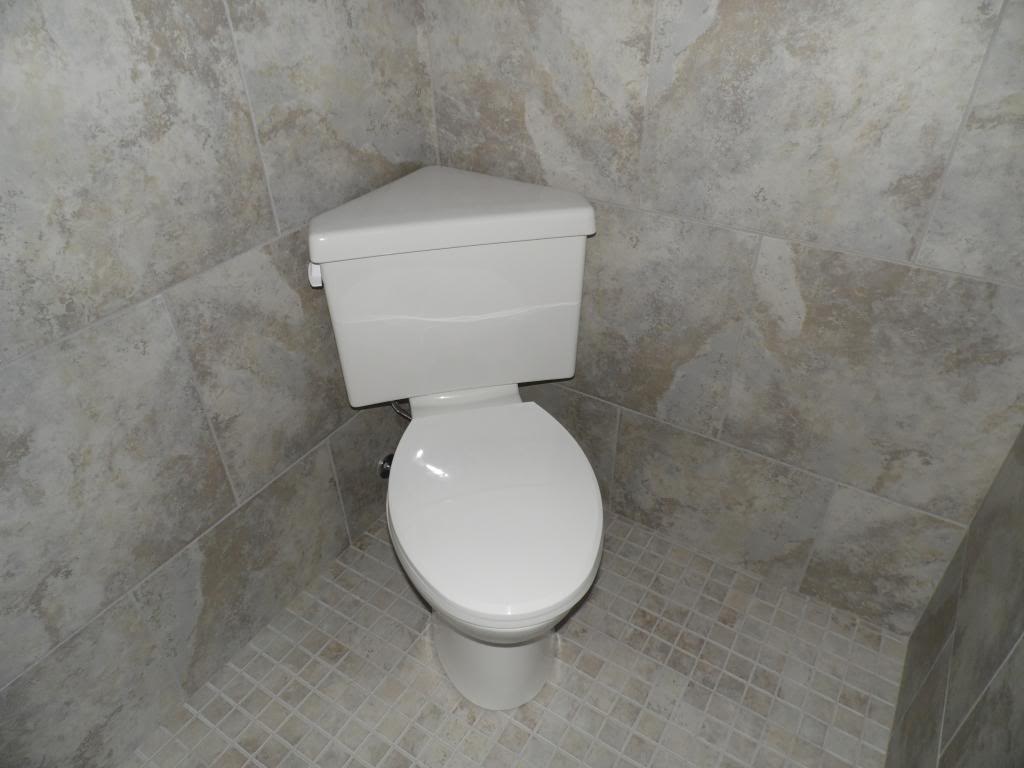 A Corner Toilet?  Who would've thought??  Actually they've been around for many years and those of you with master bathrooms that were originally intended to be a closet… but turned into a last minute "sweat box" of a bathroom, may just have one of these.  There were quite a few companies that made these like Eljer and a few others I've seen throughout the years.  Fortunately American Standard pretty much tightened up the loop with their version called, The Titan Pro Right Height which fits a happy medium in height being right in the middle of standard and comfort height specs.
Here's the product description from the American Standard Spec Sheet:
Turn a challenging corner toilet installation into a triumph with this distinctive triangle toilet. This unique design delivers reliable flushing performance with added comforts such as a longer bowl with a larger opening. A tall 16-½" rim meets ADA standards and provides greater comfort for people with back, leg or joint problems.

Combination bowl and tank, less seat
Top rated performance
Vitreous china
3″ flush valve
16-1/8″ Rim height for accessible applications
2-1/8″ fully-glazed trapway
Elongated siphon action jetted bowl
Concealed sanitary bar
Side mounted color-matched trip lever
2 color-matched bolt caps
100% factory flush tested
Extended footprint for easy remodeling
10 year warranty
Not available for sale in California and Texas

Nominal Dimensions –
Length x Width x Height:
34″ x 19-1/4″ x 31-1/2″
(864 x 489 x 800mm)
Now… If you were not paying attention during the bullet point list, go back and re-read that.  "Not available for sale in California…"??  Seriously, I don't know the reason for that but I'm pretty sure this toilet will not stir up any health issues, cancer etc…  At some point, the great state of California will just have to give in and let their residents buy stuff.  😎
All kidding aside, a Corner Toilet is something that I've been keeping on the back burner of design because these bathrooms in the Harrisburg area are flat out tiny.  Not only that because in situations from the job photo's shown, it was actually somewhat of a larger bathroom with a back to back shower and deck tub, 60″ vanity and so forth but we ripped all that out and made one large shower with a Linear Drain and all types of other goodies.  Making the foot print of the shower larger, created a situation to shorten the vanity down to 4′ and use a corner toilet because of building out a wall to enclose the shower turning it into a Galley theme.
In case you were wondering about the shower… Here's a cool shot: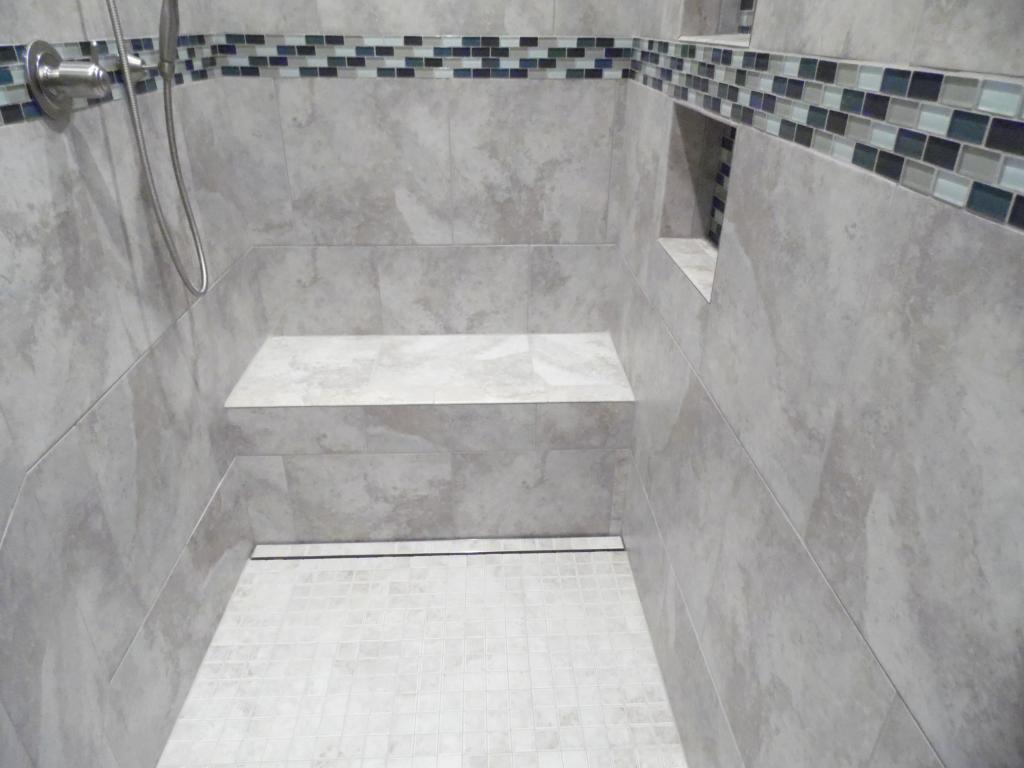 This small design feature leaves clearances open from side to side.  More importantly, it opens up the area so there's not any obstructions in front of you  (like not smacking your head on a wall as you're sitting down).  In short, designing a small bathroom can end up being a task in itself, however, it can just take a few minutes of brainstorm from a clever guy like me to make it work.  Kudos to manufacturers like American Standard for keeping rare items like this around!