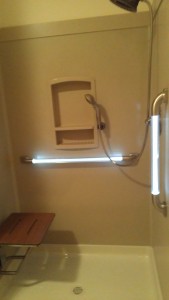 Are you looking for a shower that will be safe and fashionable? 
Both funtion and style is always a major concern when the bathtub needs to go and a shower unit needs installed so that our seniors can have easy access in and out of the shower without tripping, slipping or facing the task of stepping over a tub skirt. Builder grade grab bars, fiberglass shower units and plastic wall liner surrounds may be functional, however, the overall look can be dull and boring.
Alone Eagle Remodeling offers a very nice custom package when a Tub to Shower Conversion is a must, with functional components and a stylish look!  This article will take you through some great products and photos of a recent Shower Replacement for one of our elderly clients.
The existing fiberglass unit was removed due to cracking and the dual seat feature of the unit was not allowing enough space for a comfortable shower.  The old shower faucet was removed and replaced with a new Delta, Addison Series shower control and a Delta In2Ition personal spray wand assembly with an extra long hose and additional wall mount bracket.
A Swanstone shower base and wall system was installed complete with a trim kit and recessed shampoo shelf.  Swanstone offers over 30 color selections that will definitely set off your shower with a custom feel!  The shower seat for this project is manufactured by Elcoma, with a nice "teak" finish and the seat will flip up and down to allow for full room in the shower when the seat is not needed.
Elio LED Grab Bars were installed on a standard wall switch.  These top quality security bars are a newer item in the industry and approved in the United States and Canada for use in wet locations.  LED grab bars are especially helpful if you become dizzy or disoriented while showering where the light can be your guide to quickly grab the bar and prevent a dangerous fall.
As the whole job came together, our client was overly satisfied with the product selections and excited to make her way in the new, roomy shower!