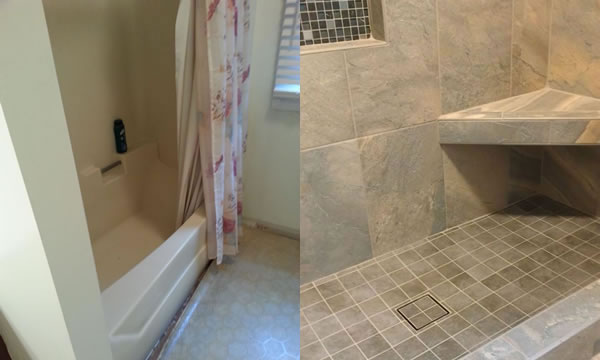 A Tub to Shower Conversion is pretty much an all purpose project that you decided on if you hate your bathtub or just clearly never use it.  Aside from that, you could be in the position to need this service if you're having a problem stepping over the skirt.  Either way we can understand why you need a change in your life.  A conversion in itself can be an involved project so adding the full bathroom can be a bit too much for you to deal with at one time.  That's not a problem because a bathroom can be remodeled in 2 phases and it is best to start with the shower area first… then the flooring, toilets and cabinets can be renewed at another time.
In these situations, we know the allotted time slot and how your budget can vary depending on how you want things to be.  You may have various other home improvement projects to do and trying to figure out which is first – or what all can be done in a years time.
Our approach is simple and know we can be in and out in a timely manner with a beautiful new shower so here's some different combinations to consider:
Shower Base with Swanstone shower walls
Shower Base with Tiled walls
Full Tiled Shower unit
Any of these are bullet proof units, especially when we install them.  Pricing can vary between the 3 if you want other things like shower doors, extra shower heads, grab bars etc…  What we've come up with is a streamlined process of selections, so in other words, we can take you through a few selections of tile boards, fixtures, wall surrounds etc… and base a great package with nice colors and some of the best quality products on the market.
How is this possible?
We have products that we stock and/or install on a regular basis and some of the other selections that we can now offer was a step forward with suppliers in raising discounts on products.  Now we can use the same methods and products to bring the bulk package to you! Any upgrades can be added but you would be amazed with these offerings.  Unless you're looking for a specific look, layout or expensive bathroom tile (we can do all that too) it's been our observation that plenty of folks want a nice looking tile installed in a standard pattern.  Sometimes getting too fancy-schmancy can "date" your bathroom in a few years.
Whatever the case may be, we have the tools to do any type of bathroom work so if you'd like to turn your conversion job into one of our full bathroom packages, we can do that too.  This could save you time and money overall.  Feel free to drop a line for any questions or an estimate!