Most closets are obviously used for hanging clothes or storing random household items but one of our client's had a different vision…  We were working with a bedroom that is used for an office/library and every intention of having a nice place to store a LARGE vinyl record collection (probably the latter of 5,000+).  Although they plan to live in the home for quite a few years to come we put our heads together and designed this space so it can be easily converted back to a regular closet!
The shelving cubicles were measured exactly to fit the height and depth of a record.  Added weight from the collection brings the reason for having separate sections because the vertical dividers will aid in supporting the load.  The upper portion of the closet is simply a book case and storage area.  In an attempt to illuminate the area we installed 12 puck lights on a dimmer switch across the ceiling and down the inside doorway jambs (I think the "glowing" effect was in order while admiring years of great shopping…)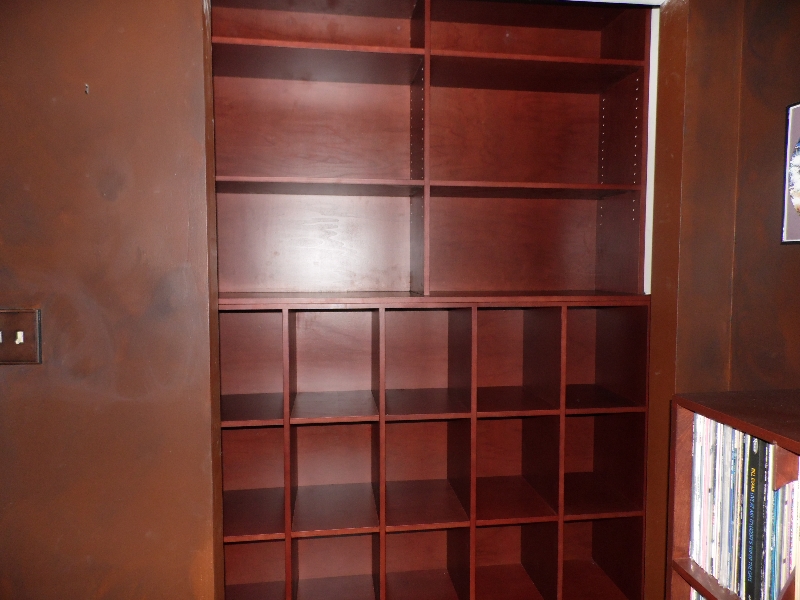 Turning this unit back to a regular closet is an easy task!
* The cubicle shelves are removable but the bottom portion is a great place to store shoes, stack t-shirts – towels – blankets etc…
* A rod can be installed to one or both of the upper unit to hang clothing and still have sufficient use of the larger shelving.
* Although the bi-fold door was removed it could be added back to close off the area.
Overall this is a definite upgrade and potential for easy re-sale of the home.  Recent reports from Realtors tell me that most potential home buyers will turn their nose up at a walk in closet with standard wire racks and jump all over anything that has customized storage space with functionality.  All you have to do is check out the other blog I wrote showing off their Master Closet remodel and you'll see why.  Closet remodeling can be quite a big investment because of the detailed measurements and custom sized units involved, however, you can make it your way and still please someone in the future if you decide to move on to another home!